June 27, 2018 by
Beth Sitzler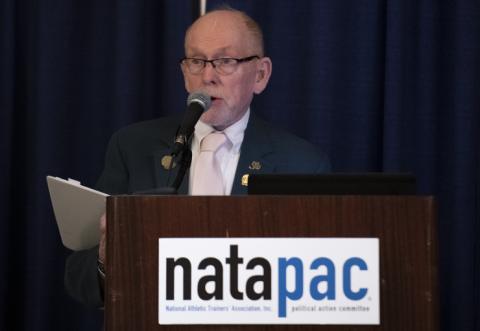 When NATA Hall of Famer Lindsy McLean, AT Ret., was asked to be the keynote speaker of this year's NATA Political Action Committee Breakfast, held June 27, he had to think about it. He made his mind up, however, when his latest NATA membership card came in the mail.
"It said 'member for 59 years,' and I said, 'Man, that's a long time. I guess I can talk about that,'" he said.    
McLean regaled the breakfast attendees with stories involving athletic training profession legends, changes he's seen in the profession and his excitement for the future. He began his athletic training journey in 1956 as a student at Vanderbilt. He conducted an apprenticeship under Joe Worden, the only athletic trainer on staff at that time.
"So there was a lot of hands-on learning," he said with a laugh. "Most schools at that time only had one full-time athletic trainer. Athletic trainers with the NFL were only six-month employees. Contrast that with today – at Northwestern, where incoming President Tory Lindley, [MA, ATC,] is, there are 23 full-time athletic trainers on staff."
After Vanderbilt, he earned a job at the University of California. In 1965, he became the head athletic trainer at San Jose State College before taking the head AT position at the University of Michigan. One encounter he had in 1967 while still at San Jose State was the catalyst for a major change in the profession.
During a San Jose State home football game, McLean met the newly hired Arizona State athletic trainer. Through their conversation, McLean learned that this new hire not only lacked a formal athletic training education, but also all of his supplies. After the game – and after sharing his equipment – McLean went home and typed a letter to Pinky Newell.
"At the end of the letter, I asked, 'Does NATA need a certification exam?'" he said, adding that he received a call from Newell asking if the letter could be published in the NATA Journal. "A month later [after it was published], Pinky created the Professional Advancement Committee."
Pinky volunteered McLean to lead the charge in regards to certification exam and requirements. Through this role, which he held for several years, he helped shape the direction of the profession and elevated its place in the health care arena.
After his time at the University of Michigan, McLean became the head athletic trainer of the San Francisco 49ers in 1979. He remained in that position until retiring in 2003.
While athletic training was his passion and he made several friends in the profession, he also faced an internal struggle. As a gay man, he felt that he needed to remain in the closet to be hired and retain his job in the field.
Although some of his colleagues may have known, he didn't openly talk about his sexual orientation. With his retirement around the corner, he was approached by a news outlet wanting to write an article about his sexual orientation. He said no. A short time later, he was approached by a different news outlet about writing an article about his sexual orientation. This time he said yes.
"What I feared most was that I would lose my friends at NATA, but I had to take that risk if it meant I could help someone else who was gay and scared to come out," he said.
When the article was published in ESPN The Magazine, he was worried about the reaction it would receive. Luckily, he was pleasantly surprised – not only were other news outlets interested in his story, his fellow ATs were, too.
"I don't think I lost a single friend – in fact, I think I gained some more. The support I received was overwhelming," he said, adding that he received letters from around the country thanking him for sharing his story. "I've kept every letter I've received."
He praised the creation of the LGBTQ+ Advisory Committee, saying it furthers the profession's culture of inclusion.
Throughout his speech, McLean shared tidbits and stories of other athletic training legends he knew, such as Jack Rockwell; Marjorie Albohm, who served on his certification committee and was NATA's first female committee member, among many other notable accomplishments; Otho Davis; and Eve Becker Doyle, former executive director of NATA.
Despite all his experiences, achievements and memories, McLean said, "I feel the best is yet to come."
"We have to continue to fight for our place in the health care profession," he said, using the continued work being done to gain licensure in California as an example. He added that the profession can't be afraid to advance and change. "I feared the profession wouldn't be the same after the apprenticeship route was eliminated. I was wrong. … Today, you might fear the change to the master's degree – don't."