May 20, 2021 by
Beth Sitzler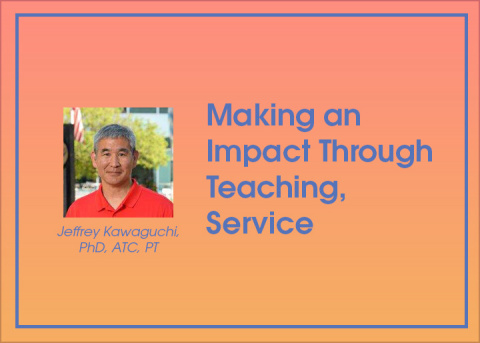 May is Asian/Pacific American Heritage Month. Throughout the month, the NATA Now blog will highlight some of NATA's Asian American and Pacific Islander committee members in a series that discusses the importance of service and giving back to the profession.
Whether through his volunteer service or his position as program director with the Pacific University in Hillsboro, Oregon, Jeffrey Kawaguchi, PhD, ATC, PT, has worked to impact the lives of his fellow athletic trainers and students.
Kawaguchi was first introduced to the athletic training profession as a student athlete. Although he was drawn to the profession and its approach to patient care and performance enhancement, his involvement in collegiate wrestling wasn't compatible with the curriculum required to become an AT.
"I actually ended up going to [physical therapy] school first, but I never lost interest in athletic training," he said. "So, when I got out of school, and after a few years of practice, I went back to get my degree in athletic training.
"I just always had an interest in working with the athletic population, a population that has a specific goal and wants to get better."
As an athletic trainer in the secondary school and collegiate settings, he was able to positively affect the lives of his athletes, helping them return from injury and excel in their sports careers. While earning his master's degree in exercise physiology and doctorate degree in sports medicine at the University of Virginia, though, he discovered another way he could make an impact: teaching.
"I've really enjoyed working with students," he said. "I've really enjoyed fostering the next generation of athletic trainers. It's been very inspiring. They're very enthusiastic and they're very interested in the profession. That kind of keeps me going."
As with teaching, Kawaguchi found that he could make a difference by serving the profession through volunteer work. Since becoming an athletic trainer, he has volunteered for various committees, starting at the state level before taking on district and national roles. He served on the NATA Research & Education Foundation's External Affairs Committee from 2005-13. In 2020, he became the NATA Ethnic Diversity and Advisory Committee District Ten representative.
"I think it goes back to the impact you have on people, especially students," he said. "I don't volunteer for a ton of committees and such, but the ones that I do, I pick and choose very carefully. … I like things that have a direct impact on people. That's why I've done things like student organizations and the diversity and inclusion committee for the [Oregon Athletic Trainers' Society]. … I enjoy giving back directly to people and to bettering their situations."
With a passion for civil right and social justice and desire to improve the lives of his fellow athletic trainers, Kawaguchi was drawn to EDAC and it's mission.
"I've taught a lot of classes on professionalism and ethics," he said. "I started with the [OATS] EDAC and then the position for our district representative opened up, and it just seemed like a natural fit."
Since becoming the EDAC representative for District Ten, Kawaguchi has worked to ensure the members in the district have the cultural competency resources and representation they need.
"When I came on, none of the states in our district had their own [ethnic diversity advisory] committee," he said. "So I've identified representatives from each state and, with their help, I'm trying to establish an [ethnic diversity advisory] committee for each state individually."
Kawaguchi has also assisted OATS in the creation of its recent districtwide cultural competency lecture series. Surveying the district membership to see what cultural competency topics were important to them, lecture organizers selected four topics: allyship, religion in the athletic training facility, microaggressions and cross-cultural communication, which is the last lecture of the series and will be held this summer.
"We've had speakers from across the country participate, and we've provided this as a service to our membership," he said, adding that they brought in notable, nationally known speakers, including Karlita Warren, PhD, ATC, and Candace Parham Lacayo, PhD, LAT, ATC, who presented on microaggressions during the 2020 NATA Virtual Clinical Symposia & AT Expo.
Kawaguchi is also assisting in the district's efforts to develop initiatives to recruit high school students of color to the profession. The hope is to not only increase students' understanding and exposure to athletic training, but to gain a deeper understanding of what is keeping them from applying for athletic training education programs. Because of the COVID-19 pandemic, these educational and fact-finding efforts have moved online.
"[Volunteering] really does make an impact on people," he said. "There are real-world implications for what's happening, and when you have the power of an association and any number of people in the membership who have similar interests as you, there's an exponential effect of what you can change, of what you can provide. Being part of the association allows you to do that."
Kawaguchi's advice to other ATs who want to make an impact at the state, district and national level is simple: Let your leadership know.
"In my experience, you have to get your name out there," he said. "Our district president was the one who reached out to me when there was a position open in an area he knew I was interested in. I would say to get to know your leadership, introduce yourself and let them know you're interested."
For more information about volunteering with NATA, visit Gather. Under the Participate tab, you can find information about the volunteer opportunities, including those with NATA's various committees. Learn more about all the committees NATA to see if there is one that fits your interest.
Members can also learn more about what EDAC is working on during the committee's Twitter Takeover May 21. Throughout the day, EDAC will share information about its representatives and member resources on NATA's Twitter account. Follow along to learn more.