March 30, 2023 by
Beth Sitzler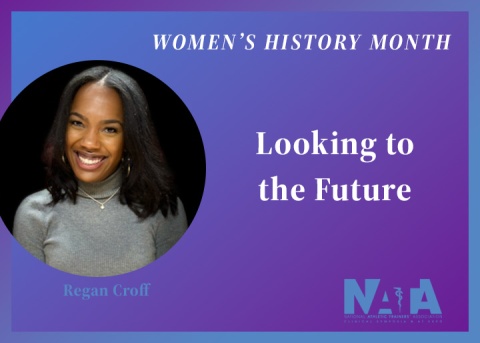 In honor of Women's History Month this March, NATA is highlighting women in the profession who are working to advance athletic training through recruitment, retention and leadership.
Every day, people are inspired to join the athletic training profession because of the compassionate care they receive from an athletic trainer. One such as inspired up-and-coming athletic trainer is Regan Croff.
A master's student at Texas Tech University Health Science Center and the District Six representative for the NATA Student Leadership Committee, Croff said she started her undergraduate studies at Auburn University at Montgomery knowing she was interested in pursuing a health care profession of some kind. After an internship with the university's athletic training staff, and experiencing firsthand the care they provide as a student athlete, she decided the athletic training profession was the one for her.
"Growing up, I was always involved in sports," she said. "I was actually fortunate to play college basketball, and I found that I was always the injured athlete. I spent a lot of time with my athletic trainer, just getting to know her and her day-to-day lifestyle, because I was always injured and even had a couple of surgeries.
"I realized, 'Wow! It takes a very compassionate, driven, caring person to be in this profession in order to put athletes or patients before themselves.' I always wanted to make an impact on people's lives and be a difference-maker, and I saw what my athletic trainers did in my life and how they impacted my career as a student athlete. So, I knew I wanted to pursue a master's degree in athlete training and make the same impact on others that they made on my life."
While earning her master's degree, Croff has found mentors in Larry Munger, PhD, LAT, ATC, Texas Tech assistant program director; and preceptor Brenna Ellis, associate athletic trainer with the Texas Tech women's basketball team. Croff said that through them, she has learned and witnessed what it takes to keep hardworking athletes performing at their best and the leadership needed to be an athletic training clinician.
Wanting to foster her own leadership skills, Croff was encouraged by her professors to serve on the NATA Student Leadership Committee.
"I've always been a person that had a voice, but wasn't really sure how to use my voice," she said. "I wasn't really confident when it came to leadership. I was the one who kind of led by actions, not by my voice. So I saw this as the opportunity to grow in that aspect.
"I think what makes athletic trainers great is having the ability to advocate and be confident in their leadership skills, and so I knew that this was an opportunity that could give me those qualities that I need to ultimately be a good clinician."
Since joining the SLC, Croff said she has found opportunities to step outside of her comfort zone and grow many of her skills.
As a member of the committee's outreach subcommittee, Croff often communicates with program directors about the SLC's projects. She also contributes to the committee's social media channels, connecting with athletic training students around the country.
She has been able to meet athletic trainers in a variety of settings, all of whom have been able to give her a different perspective.
"The very first convention I went to [was NATA 2022] in Philadelphia," she said. "That was definitely an amazing experience. I met people from all different areas and all different workplaces. I never would have thought that I would meet an athletic trainer who works for Amazon. I feel like if it wasn't for that convention, I probably would have never gotten to meet her."
Croff said she also was fortunate to meet athletic training legend René Shingles, PhD, ATC, who was the first African American woman inducted into the NATA Hall of Fame.
"I got the opportunity to talk with her," Croff said. "She was just such a big inspiration to me, and she told me if I ever need anything, to reach out to her."
Along with growing professionally, her involvement with the SLC has allowed Croff to advocate for the profession, something that was important to her as soon as she decided to become an athletic trainer, she said.
"I feel like a lot of people don't know what athletic trainers do," she said. "In order for us to get it out there, we all have to have a voice and use it. For me, I like to tell people any way I can about what I do, what I aspire to do and the reasons why I chose athletic training because I just think it's such an overlooked profession and it's just something that people need to know about. I always found it very important that if I was going to be an athlete trainer, I want to make sure that people knew exactly what I did and why this profession is so special."
Croff is graduating this May and sitting for the BOC Exam at the end of March. She said she wants to pursue the collegiate setting and hopes to work with women's basketball, a sport that has a special place in her heart.
"It was the sport that got me interested in athletic training," she said. "Playing the sport and being around it, it's just something that I'm very passionate about. [Through my] clinical rotation, I truly got to learn about the type of athlete who is involved in it. It takes a very driven and committed athlete to actually play the sport of basketball, especially in a college setting, considering the [length of the] season. I like working with this type of athlete."
Croff said she also plans to continue to give back to the profession, be it through volunteering, serving in a leadership capacity or mentoring others.
"I want to stay involved and get more people involved," she said. "So, as I get older, being a mentor to undergrad or master's students. People always tell me that the young professional is what makes athletic training change. So, as I continue to grow as a clinician, I want to make sure I have that same thought process and am mentoring and getting other people involved as they come into this profession."