February 1, 2022 by
Beth Sitzler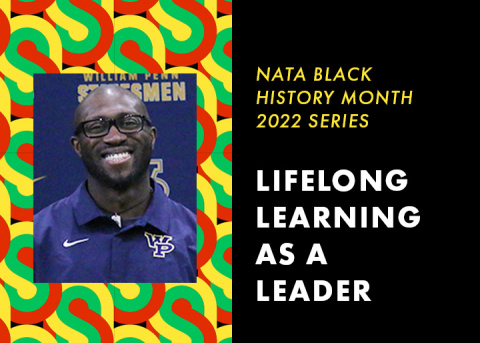 By Elizabeth Quinn
In honor of Black History Month, NATA will highlight some of our young professional leaders at the state, district and national levels and how they're advancing athletic training into the future. 
Having a mother who is a "lifelong lover of anatomy and all things relating to health" can be an inspirational way to find oneself immersed in the health care world. For Abu Ibrahim, LAT, ATC, CSCS, his mother, a registered nurse, served as a filter into the health care community, which drove his passion to pursue the athletic training profession.
As a leader in her own way, Ibrahim's mother guided a path that pushed him to become a young leader in the profession. Ibrahim is a man of many titles: assistant director for sports medicine at William Penn University in Oskaloosa, Iowa; board member of St. Mary of the Hills School in Milton, Massachusetts; NATA Ethnic Diversity Advisory Committee's (EDAC) District Five representative; and EDAC Grants Subcommittee member.
"My interest in joining EDAC grew out of a desire to give back to the profession," he said, adding that his position with EDAC is the first he's held at the national level since joining NATA. "I had achieved a few things personally as an athletic trainer that I had wanted and was beginning to ascend at the university, so I had a desire to give back to the profession that had given much to me."
In his first leadership position, Ibrahim said he feels this role is important because diversity is everyone's responsibility. Being the EDAC District Five representative has given him the opportunity to integrate more members' experiences and opportunities into the profession and, thus, allowing those voices to be heard, Ibrahim said.
Presented the opportunity to grow his leaderships skills through the NATA Leadership Academy's Leadership Development Certificate, a 12- to 24-month certificate program targeted to NATA members who are interested in pursuing leadership at the state, district or national level, Ibrahim snatched the chance to be exposed to new ideas, themes and insights that he hasn't experience before.
"My first master's degree is in business leadership, and leadership has always been an interest of mine," Ibrahim said. "I also think that lifelong learning is critical to growth as it lends perspective, and I have found in life that having knowledge has typically always been helpful and beneficial, in helping myself or those around me. My initial intent was to complete the [Leadership Development Certificate] then look to volunteer on a committee."
Advice to New or To-Be Leaders
Ibrahim reflected back on his growth from the beginning stages of his career to the leadership roles he has held in and out of NATA. Along the way, he has learned multiple lessons to share with those interested in pursuing leadership positions as well as those who are new to leadership positions.
"This is something that I learned quickly as I got 'closer to the center' of leadership: With the number of decisions that have to be made, often people will see the results and then will question them," Ibrahim said. "Being in the room and at the table where decisions are being made allows you to understand all of what goes into decisions and also gives you a chance to influence them."
If someone is interested in a leadership position, Ibrahim said to start now and get in touch with your state, district and national leadership. The leaders you read or hear about can seem "like high and mighty figures but, in reality, are all just human beings," he said.
Through Ibrahim's experience, every person he interacted with has wanted to help others achieve success, so he said to ask questions, get information and even sit in on a meeting, if possible.
"The biggest takeaway is about clearly communicating a vision and getting people to achieve their potential," Ibrahim said. "I'm lucky to have had skillful mentors, leaders and life experiences that helped get me to where I am today. I feel that it's an obligation to help others also achieve, who then, in return, also pay it forward. What nobody told me is how difficult that can be, nor how rewarding it is when it happens. This can be with student athletes, coworkers, colleagues or the community at large."
Get Involved
NATA provides multiple opportunities for members to get involved and pursue leadership positions. With more than 28 committees, NATA has a committee to fit every setting and niche. View the list of committees on the NATA website.
To find which committees currently have openings, visit Gather and click the Participate tab.
Additionally, check out the volunteer page on the NATA website for a full break down of all the volunteering opportunities, such as liaisons, state/district positions and short-term opportunities.