May 24, 2016 by
Beth Sitzler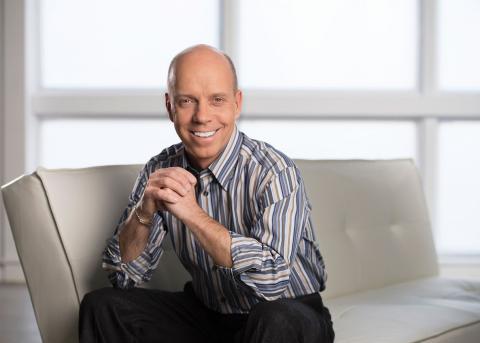 Professional skater, Olympic gold medalist, author, philanthropist and Johnson & Johnson Keynote Speaker Scott Hamilton graces the cover of the June NATA News. In his cover story, "Finding Longevity," p. 10, he details his journey to the Olympics and life after winning gold.
An important part of Hamilton's life is his philanthropic work, particularly the Scott Hamilton CARES (Cancer Alliance for Research, Education and Survivorship) Foundation. Hamilton lost his mother to cancer when he was 18 years old. He later faced his own battle with cancer, which he won. He was inspired to create a foundation that would improve cancer patient survivorship by supporting world-class cancer research and the highest quality patient treatment and care.
"The cancer world is underserved, so building a foundation that really engages patients, engages scientists, engages the cancer center and really tries to raise the bar, that's what I wanted to do," he said.
The CARES Foundation has built partnerships with leading institutions, cancer support groups and researchers in an effort to spur collaboration and cooperation in ridding the world of cancer.
The CARES Foundation has several initiatives designed to improve the lives of those going through treatment as well as those who have survived the disease, such as An early program, founded by Hamilton when CARES was still an Initiative associated with the Cleveland Clinic, was Chemocare.com.
"Chemocare.com is something that I worked really hard to get funded," Hamilton said. "We built it and it's a go-to website for anyone in need of chemotherapy. It's the most complete, the most understandable website, I think, that's out there. That was something that was a huge accomplishment."
On the website, cancer patients can find everything they need to know about chemotherapy, from what it is and the different chemotherapy treatments available to preparing for treatment and what to expect. The site also offers tips on how to manage chemotherapy side effects and what to do after chemotherapy.
Another initiative started by Hamilton is the 4th Angel Mentoring Program, which pairs cancer survivors and caregivers with patients and caregivers of patients currently being treated. Patients and mentors are paired based on diagnosis, gender and age. This provides patients with support from someone who has been where they've are and has faced what they're facing.    
At the core of the CARES Foundation is research, particularly in the areas of early detection, quality of life, advanced diagnostics, leading-edge treatments and clinical trials.
"The research that is being done is really important," Hamilton said. "We are funding research into treatments that that kill the cancer and spare the patient, such as immunotherapy and proton therapy."
Part of the CARE Foundation alliance is the Provision Center for Proton Therapy in Knoxville, Tennessee, one of 23 proton therapy treatment centers in the United States. Hamilton said an advantage of proton therapy is it's cleaner and more precise than radiation.
"Why radiate parts of your body that don't need it or want it?" Hamilton asked.
Advancing cancer research and improving patient care is a major priority for Hamilton, and he plans to continue that work and to do whatever he can to bring the cancer community together.
"There are too many silos," he said. "I want to inspire collaboration and lift up people. I want to help find better treatment options."
Visit the Scott Hamilton CARES Foundation website for more information about its research, education and survivorship efforts as well as its cancer alliance members.
Hamilton will share insight into life on and off the ice during his keynote presentation at 4 p.m. Friday, June 24, during the General Session of the 67th Clinical Symposia & AT Expo in Baltimore.