June 16, 2023 by
Beth Sitzler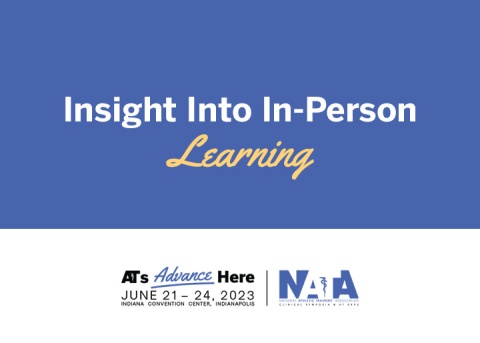 The 74th NATA Clinical Symposia & AT Expo educational programming provides attendees with access to cutting-edge research and the latest in athletic training education. Attendees can earn up to 20 CEUs, a major benefit as 2023 is a reporting year.
Keep reading to learn more about this year's educational programming and CEU-earning opportunities. You can see everything NATA 2023 has to offer by viewing the full convention schedule on the convention website as well as in the NATA Events app.
This Year's Theme
While there will be a variety of topics presented on in Indianapolis, the NATA Convention Program Committee has identified two key themes for NATA 2023:
Data-Driven Practice: This theme is focused on strategies for using data to guide patient care and improve health outcomes.
Optimizing Return to Work, Life and Sport: This theme is focused on providing clinicians with the best available evidence to support decision-making related to returning to work, life and sport.
Get To Know the Learning Formats
Everyone learns differently, and with various session formats available to NATA 2023 attendees, there's something for everyone. Formats include:
Advanced Tracks: Ranging from four to six hours, these sessions are held prior to the start of convention and require a separate registration fee. Session topics are clinical in nature with in-depth lectures followed by a hands-on lab. Advanced Track attendees have the ability to earn additional CEUs.
Forums: Approximately 55 minutes long, forums are designed to stimulate discussion between researchers and clinicians. Presenters provide an overview of current evidence on a relevant topic and pose stimulating questions to the audience for a structured panel-audience discussion and opportunities for critical thinking.
Lectures: These in-depth presentations discuss a topic(s) relevant to athletic trainers that fall within the domains of athletic training. Lectures are typically 55 minutes and include a question-and-answer session.
Interactive Lectures: During an interactive lecture, the speaker incorporates engagement opportunities into their presentation. This allows attendees to engage with the material presented as well as one another.
Learning Labs: These sessions provide an opportunity for attendees to observe, think critically and apply newly acquired skills that fall within the domains of athletic training. Learning labs are two hours, with a one-hour lecture and one-hour hands-on lab.
Free Communications Program: Another way to learn during convention is through the Free Communications Program's poster and oral presentations. Learn more about this year's Free Communications Program and its many offering in this NATA Now blog post. 
Complete Your Evaluations
NATA 2023 in-person attendees will receive an email containing links to evaluations for each day's educational events. These emails will be sent to the address used to register for convention. Completion of the evaluations is key to enhancing your learning, providing feedback to speakers and improving future programming. Your registration number will be needed to complete the evaluations.
Earning CEUs On-Demand and Statement of Credit
In-person attendees who aren't able to earn all 20 CEUs in person can earn their remaining CEUs in the NATA 2023 On-Demand virtual platform. An email to access your Statement of Credit will be sent to in-person attendees by the end of July. Your Statement of Credit will reflect that you can report up to 20 CEUs. It will be up to you to track the sessions you attended on-site and your corresponding contact hours (CEUs), along with the sessions you complete on-demand and to report your CEUs earned. It is the attendee's responsibility to accurately report contact hours and CEUs earned during the in-person and on-demand educational programming.