June 14, 2023 by
Lydia Hicks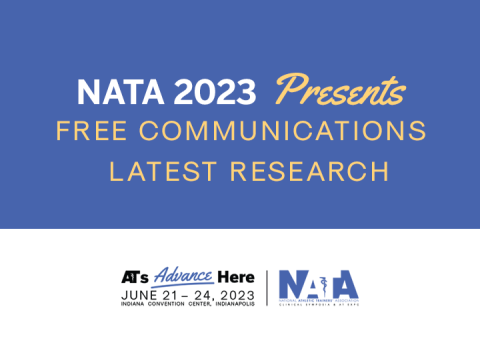 Thanks to the NATA Research & Education Foundation Free Communications Program, attendees of the in-person 74th NATA Clinical Symposia & AT Expo will have the opportunity to learn about the latest research in athletic training June 22-24 at the Indiana Convention Center (ICC) in Indianapolis.
Often the first chance for an athletic trainer to present their research and clinical case studies, the Free Communications Program has featured more than 8,773 oral and poster presentations through 2023. This year, those in person at NATA 2023 can attend oral presentations and converse with the poster presenters throughout the live dates in Indianapolis. Rapid-fire oral and poster presentations will be held throughout NATA 2023 and digital poster presentations will be available in the NATA 2023 On-Demand platform.
"The Free Communications Program remains a unique opportunity to see the latest athletic training evidence capable of advancing both clinical practice and future research," said Free Communications Committee Chair Erik Wikstrom, PhD, ATC. "We encourage each rapid-fire oral and poster presenter to offer take-home messages to ensure that the most pertinent information is central to the presentation."
Wikstrom said this year's Free Communications Program features 17 rapid-fire oral sessions highlighting 138 abstracts, and 14 poster sessions highlighting 143 abstracts. Each six-minute oral presentation will focus on key findings from each scholar's research. 
"While posters will be available to view during the entire meeting, authors will present their abstracts across four smaller sessions that align with the [convention's] larger schedule for the first time," he said. "We hope that the schedule change allows more attendees to take advantage of the opportunity to interact with presenters on a one-on-one basis."
This year's Free Communications Award recipients will also be honored during the NATA Foundation Distinguished Scholars Presentation from 1:40 to 3:40 p.m. June 23 in ICC, Room 239. Honorees include:
Pre-Professional/Professional Student: Julia Rizopoulus, Florida International University
Post-Professional Advanced Clinical Track Student: Stephan Fisher, MS, ATC, Texas State University
Post-Professional Terminal Degree Student: Kestra Rizza, LAT, ATC, Indiana State University
Early Career: Ryan McCann, PhD, ATC, CSCS, Old Dominion University
Established Career: Rebecca Stearns, PhD, ATC, University of Connecticut
After the in-person convention, attendees will have access to Free Communications Program and poster presentations Aug.1-Sept. 30 via NATA 2023 On-Demand.
For more information about attending the in-person Free Communications Program, visit the convention website. Also, access the detailed schedule with locations in the full NATA 2023 schedule and browse the NATA 2023 event app for further details.