November 20, 2018 by
Beth Sitzler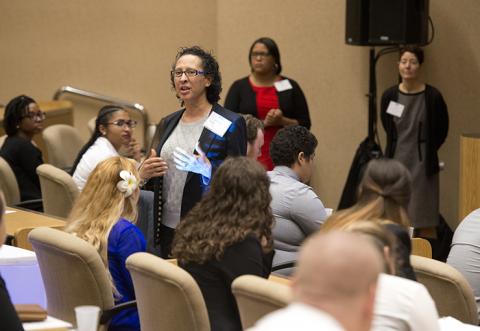 By Kim Diggs
Athletic training students from across the country will make the trek to Irving, Texas, Jan. 25-26, 2019, to attend the iLEAD Athletic Training Student Leadership Conference, an opportunity to gain unique networking opportunities and valuable, hands-on experience while learning from industry experts.
What to Expect
This biennial event is designed to empower athletic training students to discover their leadership style, challenge their views on leadership as it relates to sports medicine and develop soft skills that can be applicable upon graduating.
There will be eight workshops, two lectures and a panel discussion, ranging in topics from effective cover letter construction to understanding how leadership styles have evolved throughout the generations. Each of these sessions is spearheaded by a current or former national or district leader.
In addition to these sessions, there will be two designated opportunities for students to network:–  the iLEAD Pizza Lunch & Networking with NATA Board of Directors and the Strategic Alliance Presidents Networking Session. Though these are the two scheduled networking opportunities, there will be lots of chances for attendees to collaborate with other students or meet leaders within NATA.
What's New in 2019
One of the many suggestions requested by previous attendees was the incorporation of more workshops. So, rather than the majority of the conference being lecture-based, most of the sessions incorporate some sort of interactive element.
There will also be opportunities for students to revise their cover letters and practice their interviewing skills while receiving real-time feedback from ATs. Students are encouraged to bring their laptops, tablets, résumés, cover letters and business cards so they may be critiqued by experts or exchanged with students or ATs.
One of the biggest changes is iLEAD will be held in conjunction with the Joint Committee Meeting in 2019 as another opportunity for attendees to network. The Joint Committee Meeting brings together all of NATA's committee members for in-person meetings. In the past, iLEAD was held separately from most professional meetings and conferences. However, it was decided that this is a chance for students to be exposed to new happenings in NATA and strike up conversations with association members and leaders in the profession.
Registration Information
iLEAD is Jan. 25-26, 2019, at the Omni Mandalay Hotel, 221 E. Las Colinas Blvd., Irving, Texas. Registration is $200 for members and $315 for nonmembers. Attendees have until Dec. 15 to secure admission into iLEAD 2019. Visit the housing website to book a discounted room at the Omni Mandalay Hotel while they are still available.