October 29, 2019 by
Beth Sitzler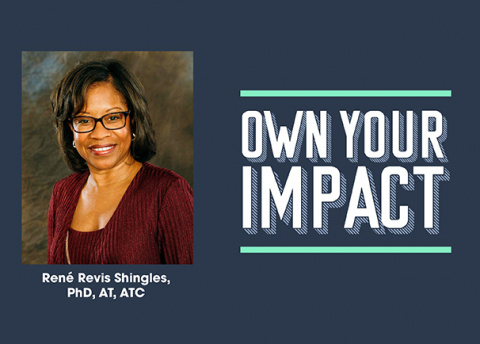 René Revis Shingles, PhD, AT, ATC, provided the November NATA News Own Your Impact column. In it, she discusses her passion for cultural competency and how she has used this passion to improve the athletic training profession through research, volunteer work and coauthoring a textbook.
"Cultural competency in the profession, educating people about diversity issues as related to the profession or patient care was and is important to me," she said. "That was instilled early on [in my career] with my work with the Minority Athletic Trainers' Committee. Who knew where that would take me and the impact it would have on my life and my career? But I became committed to helping people understand more about diversity."
When collaborating with Lorin Cartwright, MS, ATC, CAA, on the textbook "Cultural Competency in Sports Medicine," Shingles was able to use what she learned from her dissertation about women in athletic training.
"[I was surprised by] some of the things I learned from the women I interviewed in terms of when people feel they have culture or when they feel they are cultureless," she said. "Some of the women I interviewed who were white didn't feel like they necessarily had a culture, or did not recognize that they had culture, which was consistent with the literature at the time, but surprised me. Some of the Women of Color, in particular African American women, I interviewed felt their race privileged them when working with athletes who look like them because race is not a barrier. They felt they were able to communicate effectively.
"So, gender issues became noticeable, but that was true for the white women I interviewed, too. They didn't feel their race privileged them or not when they were working in predominately white environments, but they certainly understood when they had gender suppression."
While privilege and gender suppression are now important topics of discussion, in the 1980s and '90s, they weren't talked about, especially in the context of sports medicine.  
"When we were writing our textbook, which came out in 2011, we were just starting to have those kinds of conversations about why treating the whole person was important," Shingles said. "Today, we think, 'Yeah, that is important,' but, almost 10 years ago, 15 years ago, we weren't thinking that way. It was, 'I treat everybody the same.' Well, treating everybody the same may not be what everybody needs.
"It was fascinating to learn about it as it relates to athletic trainers. As athletic trainers, we are helpers, that is why we do what we do. We want to help people, we want to get them better. But we had this notion in terms of how we were being taught and educated that you don't discriminate – you treat everybody the same. So, if I treat every ankle the same, I am doing all the right things. If I treat every knee that walks in the same, I am doing the right thing. But the whole person walks in, not just the knee that carried them there. We were not having those conversations early on. It is nice because we are having those conversations today."
Shingles said she has been blessed to have mentors and colleagues who have supported her work and passion. 
"I can bounce ideas off of them and go to them if I was struggling in some way with resources or what to do," she said.
To help her overcome her biggest struggle, Shingles has found support outside of the profession in the form of a writing group.
"I struggle at writing," she said. "I prefer to speak to people. I will stand on the National Mall and speak to a million people – maybe twice. Ask me to start with a blank computer screen? It takes me a minute. Although I have written a textbook – and am about to write a second – I still have to work at it. It is not something that comes easily to me."
Thanks to the support of her writing group, though, the blank page is less intimidating.
"In those moments when I struggle for an hour to write two sentences or a paragraph, my writing group praises me for writing more than I did when I walked in the room and had a blank piece of paper," she said. "It helps keep me from feeling discouraged."
Shingles encourages other athletic trainers to find what they're passionate about and reach out to those who can support them, both in and outside of the athletic training profession. 
"After you decide what you are passionate about, what you're committed to, figure out what the barriers are, and develop a plan to deal with the barriers," she said. "Then, go forward and find new ways of giving back to the profession through the thing you are passionate about."