June 24, 2016 by
Beth Sitzler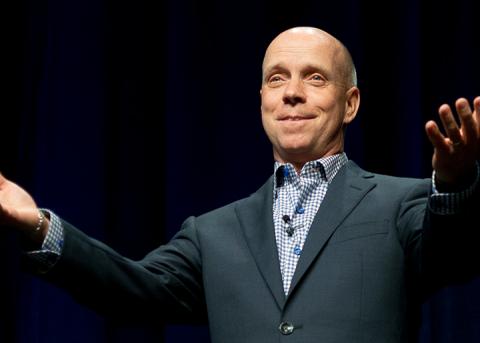 "Athletic trainers – man, you guys are the unsung hearos," said famed figure skater and Olympic gold medalist Scott Hamilton as he addressed the pack Baltimore Convention Center Swing Hall during his J&J Keynote Friday, June 24.
Hamilton spoke about the stages of his life, beginning with his childhood. Adopted at six weeks old, Hamilton grew up in a loving family with a mother who was compassionate and full of humor.
"She was the center of my universe," he said of his mother, who passed away from cancer when Hamilton was 18 years old.
As a child, Hamilton showed signs of stress and wouldn't grow. He was in and out of the hospital with a mysterious illness that baffled doctors. After years of tests, restricted diets and hospitals, a doctor at the Children's Hospital of Boston told his parents to go home and let him live a normal life.
"I was so excited to live as a normal kid," he said.
During this time, Hamilton began visiting a local ice skating rink for Saturday morning classes to give his exhausted parents a break. At first, he was wobbly and held tightly to the wall. But soon, his skills improved and his self-esteem increased. Before long he was skating with the best in the class.
He began training at a skating center, where he met Janet Lynn, a 1972 Olympic bronze medalist.
"One day she sat near me and she said, 'I want to share something with you. I don't know why, but I want you to know this. Everything you achieve is yours forever. Nothing can take that away,'" Hamilton said.
Those words stuck with him as he continued his pursuits as a young figure skater. In his early days, Hamilton had his ups and downs throughout his regional competitions. In one competition he fell five times.
"I fell so hard on my side, I don't know if you all could have fixed me," he said.
He improved and eventually ended up placing in nationals, where he got the attention of a coach and sponsor. He remained inconsistent on the ice until the passing of his mother changed his perspective.
"I decided, 'Live for her and take her where ever you go,'" he said.
His hard work paid off – Hamilton made it to the Olympics in 1980, where he placed fifth in the world, and 1984, where he earned the gold medal in men's figure skating.
"When I was at the [Sarajevo] Olympics [in 1984], my nose was so stuffed up, I couldn't breathe," he said. "I couldn't take any decongestant because of testing, so it was the athletic trainers and Olympic doctors who got me to breathe again so I could get through my long program."
After his Olympic victory, Hamilton had a professional ice skating career with "Stars on Ice," which featured 12 figure skaters and conducted a 60-city tour each year.
"We went to the owners and asked for an athletic trainer to go with us on tour," he said. "We told the owner, 'It will cost you more not to hire one.'
"Question: Has there ever been an elite athlete who could have done it without you? The answer is 'no.'"
Hamilton said the athletic trainer did everything from work on his back to rehabilitate his ankle after a sprain. More importantly, she helped him discover he had testicular cancer.
"The athletic trainer was working on me, and pushing on my stomach," he said. "She said, 'This isn't muscular. Go to the hospital right not.'"
After several hours at the hospital, a mass was found and Hamilton was diagnosed with cancer – "the same illness that took my mom," he said.
"I wanted to live my cancer the way my mom lived her life no matter the outcome," he said, adding that his mom was always happy and loved to laugh.
After several rounds of chemotherapy and surgery, Hamilton beat cancer and was determined to rejoin the tour.
"I told myself that I had to get back to work, I had to get back on the ice, I had to show everyone with cancer that they can have a normal life," he said, even though the chemo left him swollen and weak. "My athletic trainer helped break down my scar tissue and helped me work on my core and get back to life.
"My athletic trainer allowed me to fly, just as you allow every athlete you've ever worked with to fly." 
Photo by Renee Fernandes/NATA