September 22, 2021 by
Beth Sitzler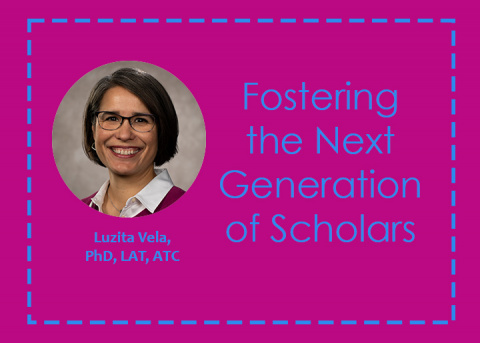 In honor of National Hispanic Heritage Month, Sept. 15-Oct. 15, the NATA Now blog will highlight some of NATA's Hispanic/Latinx members who are advancing the athletic training profession through research.
Luzita Vela, PhD, LAT, ATC, professor and program director with the University of Arkansas, knows firsthand the impact mentors can have on an athletic training student or young professional, whether they're showcasing the latest in patient care or providing a guiding light through the research process.
Vela's mentors showed her a path in athletic training she didn't know was possible. NATA President Kathy Dieringer, EdD, LAT, ATC, then head athletic trainer at Texas Women's University, helped foster Vela's love of athletic training as an undergraduate student.
"She really expected every person who is in that space to be there, to shed whatever you had at the door and be focused on who was in the room," Vela said.
Richard Ray, EdD, AT Ret., at Hope University, offered Vela her first job after she earned her master's degree from Barry University.
"I didn't know what I was getting into, but I knew that there was going to be a strong mentor there who was going to support me," she said of her decision to move to Michigan.
Craig Denegar and Jay Hertel, PhD, ATC, FACSM, at Pennsylvania State University, guided her as she earned her doctoral degree.
"I've been incredibly lucky with the people who I've been able to interact with because they've just provided the opportunity – they showed me where the door was and opened it, and I just needed to walk through it," she said.
Since moving into higher education, Vela has shared her passion for athletic training, mentorship and research with the next generation of athletic trainers and athletic training scholars, providing the guidance and insight that helped her flourish in her different pursuits.
"I think what drove me to becoming a mentor is the same thing that drove to being an athletic trainer – to be in service to others," Vela said.
Taking a page from her mentors, Vela sets out to share her experiences with her mentees so they can better understand the possibilities that are within the profession and learn from someone who has lived it.
"It's the big-picture perspective," she said. "I think, particularly for people who might be either a first-generation learner or who've come from an environment in which they may not have the traditional access to understanding pathways within academia, it is so important to have a mentor who identifies the things that you didn't even know was the next step. … It's important to show them that there is a path, that path is navigable and that it is possible, because they're going to have some hurdles, and helping to build that sense of 'I belong in this profession, I can do it' will help push them past those hurdles."
Vela, who has coauthored 17 peer-reviewed journal articles and served as a manuscript reviewer for various journals related to athletic training since 2003, is using her research experience to help her mentees navigate the research processes. A big part of her role as mentor, especially to those who are conducting a master's thesis and doctoral dissertation, is to help them overcome the challenges they encounter along the way.
"My role is to be that person who can listen as they're navigating those things, and then provide some insights or thought from my own experiences with research," she said. "And, hopefully, even be that outside lens to say, 'Let's look at this problem slightly differently,' because, especially with doctoral students, they get so in depth with this one particular topic, it's hard to see the forest through the trees. It requires someone external to help them see that."
Serving in this role has also been beneficial to Vela as it keeps her curriculum relevant and herself up to date on the evolution of the profession and research being conducted, she said.
"I get a big thrill out of it," she said. "The nice thing is it's almost vicarious living. I get to live through them in their research experience.
"The research experience our students are getting now as doctoral students is really exciting to see. … It's really exciting to see the trajectory, the new questions, the new ideas and the new problems that are being solved in more intricate and elaborate ways."
Vela said today's research is a continuation of the research conducted 20 years ago that looked at research problems from a mechanistic lens – now examining the outside factors and personal influences on clinical decision-making.
"We're thinking more big picture and recognizing the role of systems and infrastructure and things outside of each [patient] that play into their outcomes," she said, adding that one such example is the research conducted by Mayrena Hernandez, MPH, LAT, ATC, a former student of Vela's focused on risk prevention and social determinates of health.
"It's just so interesting because the whole understanding of that as a role in health care and in outcomes for patients really didn't emerge until more recently, particularly in the realm of athletic training. … It's really exciting to see someone like May being able to answer these questions. … [It's a] more robust way of looking at patient-centered care."
By fostering the next generation of researchers and pooling resources to answer the big questions about patient care, Vela is excited about what's on the horizon for athletic training.
"I've seen a lot more inter-institutional collaboration when it comes to research because we're recognizing, as a profession, whether it be questions about how to best educate our student or how to best be health care providers, these questions are so big that we really have to pool our resources and work collaboratively," she said.
To learn more about the research NATA supports, read the Journal of Athletic Training and Athletic Training Education Journal as well as visit the NATA Research & Education Foundation website.