September 13, 2021 by
Elizabeth Quinn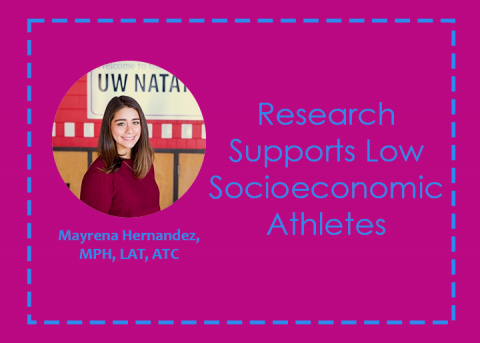 In honor of National Hispanic Heritage Month, Sept. 15-Oct. 15, the NATA Now blog is highlighting some of NATA's Hispanic/Latinx athletic training members who are advancing the profession through research.
Taking two areas of passion and combining them for a better future for youth sports is how Mayrena Hernandez, MPH, LAT, ATC, is working to progress the athletic training profession. After getting her bachelor's degree in athletic training and master's degree in public health, Hernandez decided to pursue a career in research. So how do these two degrees merge together? Hernandez said they're both at the front of health care.
Although she is a PhD candidate and is defending her dissertation in early spring, Hernandez has already made strides to better youth sports. At the Wisconsin Injury in Sport Lab at the University of Wisconsin at Madison, where she works, the lab is known for sports specialization and Hernandez has been able to curate her research specifically for low socioeconomic youth athletes.
"I'm passionate about bringing equitable health and health care to low socioeconomic and underserved families," Hernandez said. "I want to make sports safe for all kids and families so they can enjoy lifelong physical activity ... and can enjoy sports in a safe manner. This is important to me because I was a low socioeconomic status minority athlete."
With low socioeconomic athletes, it is possible they will encounter health care disparities, so when they are injured, it can seriously hinder their ability to return to sports and continue to enjoy activity safely, she said. That is why Hernandez uses a sports specialization lens to closely analyze effective ways to improve sports safety.
"I use a mixed method, a survey and qualitative component," Hernandez said. "I look at how ATs still provide a standard of care that NATA envisions for each athletic trainer in any setting and how they get to that standard of care despite socioeconomic status. I want to highlight the positives of athletic training and how creative ATs get with their strategies."
Hernandez didn't originally plan to get into research. During her undergraduate, she was required to do an honors thesis. As a first generation Mexican American, Hernandez said she began to piece together where her part can be in making research accessible for low socioeconomic athletes and be at the forefront of policy changes. Since then, she has begun to plan her goals as a researcher.
"I would love to, wherever I end up, provide research to drive policy change and target public health professionals and patient interactions," she said. "I want to provide research that changes CAATE-accredited athletic training programs for the better, teach about the important of  low socioeconomic status athletes and their health care and I want to shape the future young athletic trainers in their respective setting and field to be at the forefront of public health."
Hernandez said ATs are great researchers because they make science into a digestible form of communication and speak the patient's language, which allows for the research to be applicable, realistic and implemented in everyday life. She also acknowledged the necessity for more representation in athletic training to ensure continued support and safety of athletes.
"We definitely need more Hispanic/Latinx ATs to relate to athletes who are also Hispanic/Latinx and come from different backgrounds," she said. "Keep advocating for diversity and cultural compentency in athletic training. The athletes and patients are diverse, and we, as ATs, need to match up to that."
Hernandez's research was funded by the NATA Research & Education Foundation's Doctoral Research Program.
NATA offers members resources on diversity, inclusion and cultural competency.