June 20, 2018 by
Beth Sitzler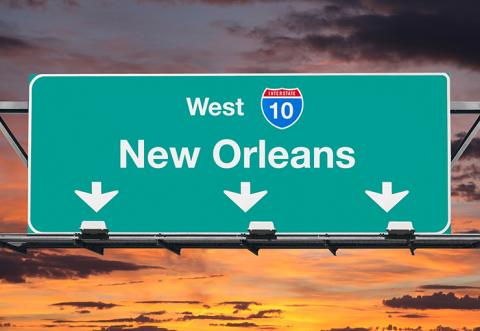 Traveling to a new city can be stressful. From finding your hotel to getting to the convention center, there is a lot of to think about. Don't worry – NATA is here to help you find your way around the various NATA 2018 event locations. Before you head to the Big Easy for the 69th NATA Clinical Symposia & AT Expo, be sure to reading the following transportation information.
AIRPORT TRANSPORTATION
Information regarding airport transportation can be found on the NATA convention website.
PARKING
Parking is available in garage and surface lots throughout downtown New Orleans and near the New Orleans Morial Convention Center. A map can be found on the NATA convention website.   
SHUTTLE SERVICE
The following NATA hotels will have shuttle service to the Morial Convention Center for official NATA convention events:
Astor Crowne Plaza New Orleans French Quarter
Cambria Hotels & Suites New Orleans Downtown
Courtyard New Orleans Near French Quarter/Downtown
Doubletree by Hilton Hotel New Orleans
Hampton Inn & Suites Downtown French Quarter Area
Hilton New Orleans Riverside
JW Marriott New Orleans
Le Meridien New Orleans Hotel (formerly W Hotel)
Loews New Orleans Hotel
New Orleans Marriott
Renaissance Arts Warehouse District Hotel
Residence Inn New Orleans
Westin New Orleans Canal Place
Shuttle service begins at 6:30 a.m. Tuesday, June 26, prior to the opening of registration and ends 30 minutes after the Welcome Reception concludes. Wednesday shuttle service starts one hour before educational programming begins and ends 30 minutes after district meetings. Thursday and Friday, shuttle service starts 45 minutes before and ends 30 minutes after educational programming. Buses run every 20 to 30 minutes.
WELCOME RECEPTION SHUTTLE INFORMATION
Shuttle service will be provided from all official shuttle hotels to/from Mardi Gras World from 6:15 p.m. to 9 p.m. on a continuous loop. Attendees staying at walking hotels should proceed to the New Orleans Downtown Marriott at the Convention Center (across from the Morial Convention Center) for transportation to Mardi Gras World. The last inbound shuttle from the shuttle hotels and convention center will be at 7:45 p.m. The last shuttle departs Mardi Gras World at 9 p.m.
NATA FOUNDATION 5K FUELED BY FUELED BY GATORADE SHUTTLE INFORMATION
Service will be provided from Morial Convention Center Hall B to Audubon Park, located at 6500 Magazine St., from 5 a.m. to 5:30 a.m. (last shuttle departs center at 5:30 a.m.). Return service from Audubon Park back to the Morial Convention Center Hall B runs from 6:30 a.m. to 7:30 a.m. (last shuttle departs Audubon Park at 7:30 a.m.).
NEW ORLEANS REGIONAL TRANSIT AUTHORITY
Due to the construction of the Four Seasons Hotel and private residence development, the Poydras Station (by the Hilton Riverside) and Julia Station (by the Morial Convention Center) stops on the Riverfront Streetcar may be shut down during NATA 2018. If you were planning to use the streetcar, please be sure to check the NORTA website first.