March 18, 2020 by
Beth Sitzler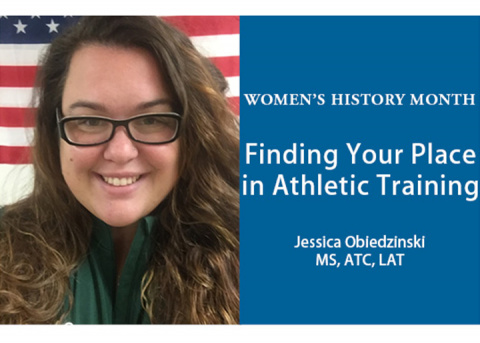 When Jessica Obiedzinski, MS, ATC, LAT, was an undergraduate athletic training student, she envisioned herself going into a traditional setting and working with athletes just as her high school athletic trainer worked with her.
"My high school athletic trainer was a huge influence on me," she said, explaining that she had chronic issues with her knees during her four years of high school track and spent several hours in the athletic training facility, seeing firsthand how her athletic trainer impacted athletes' health and well-being. "I decided [athletic training] was what I wanted to do. I wanted to do something related to medicine … so when I learned that I could practice medicine and watch sports all day, I was very excited."
One fateful NATA convention, however, opened up a new world of athletic training to Obiedzinski and changed her career trajectory.
"I didn't realize that the military setting was an option to athletic trainers until a year or two after I graduated undergrad," she said. "It was about eight years ago. I saw a session listed at the NATA convention about the military setting, and I thought that was cool."
Coming from a patriotic family with both grandfathers and an uncle serving in the military, Obiedzinski was interested in learning more about how the athletic training skill set could be used to care for service members.
"I went to the session and heard about everything they were doing in the military setting and I thought, 'Well, that's fantastic – I could do that!'" she said. "This was sort of my way to give back to those who served our country."
After returning from convention, Obiedzinski, who was working in the collegiate setting at a Division I institution, looked into jobs available in the military setting.
"I decided to go get my master's degree because every job I saw in the military setting required a master's degree," she said. "It really was the defining factor of whether or not I was going to get my master's degree."
After earning her master's degree, she left her position at a private boarding high school where she worked in the interim for a position working with the U.S. Army.
"I wasn't very familiar with the military setting other than my grandfathers' photos on the walls and the occasional story," she said. "It's a very interesting setting to work in. It's very unique."
While transitioning into the military setting, Obiedzinski found herself working with a patient population unfamiliar with athletic training and the care she could provide. Even those who were previously athletes and had worked with an athletic trainer needed to be educated about her role in with the U.S. Army.
"For a lot of people, I was their first athletic trainer," she said, adding that she worked with basic trainees as well as active service members. "For my drill sergeants, none of them had worked with an athletic trainer before.
"People were a little leery at first. They were like, 'OK, what is she going to be able to bring to the table.' After I was able to provide injury management and proper care for injuries – and help get trainees back quickly into training so they did not have to miss a lot of training or be dropped altogether – once I started to prove my worth there, they were very accepting and thought, 'Oh, this is awesome.'"
Obiedzinski also had to do her share of learning after entering the military setting.
"The structure of the military setting was also something I had to get used to," she said. "You have to be part of the military when you're in the military setting – so, knowing proper titles, the proper way to address people, all of the acronyms.
"I felt I had made it in the military setting when I wrote my first sentence that was predominantly acronyms and it made sense," she said with a laugh.
Obiedzinski is currently working with the U.S. Army Holistic Health and Fitness Program, a pilot program that uses a multifaceted, integrated approach to improve soldier wellness that includes physical training, proper sleep and nutrition, and mental and spiritual readiness.
"[Working with athletic trainers is] still a very new situation for the Army and most soldiers," she said, adding that the Holistic Health and Fitness Program will go out to more units in a year or so. "They're still not used to having an athletic trainer. That has been a huge change for a lot of them. The fact that we are getting to the battalion level, that we're getting to see our soldiers on a daily basis and really get to know them – and our soldiers can see that we're getting to know them – it really makes a huge difference in their desire to get better, work with us and do the rehab we assign.
"It's definitely been a big change. It's going in the right direction, and going in the right direction pretty quickly. People are becoming more accepting and more willing to come see us and utilize this resource they now have."
Since joining the military setting, Obiedzinski said she has found her place in athletic training.
"Tactical and military setting is where I will be staying," she said. "I loved working college and high school, but the military is where I'm meant to be. The fact that I'm helping people stay healthy so they can do their job properly and stay alive makes a huge difference. In my setting, you could very well be preparing a soldier's body to physically deal with a life-or-death situation. My work helps people stay healthy, stay strong and able to protect themselves and their battle buddies."
Obiedzinski said she's thankful that she is working with a patient population she's passionate about, and encourages other athletic trainers to also find the setting to which they feel a strong connection.
"Don't be afraid to move around to find the place that fits you," she said. "If you're not happy, you don't have to stay there. Try to find where you'll be the happiest. You'll find the setting that fits you."