October 29, 2019 by
Beth Sitzler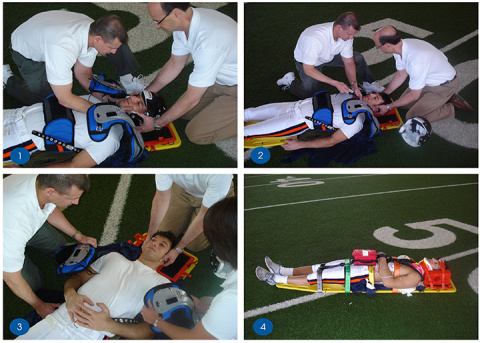 Photo caption: The images above depict the steps that are taken to remove the RipKord Quick Release for Football Shoulder Pads from a spine injured athlete. Learn more about the RipKord in this Riddell video.  
The November NATA News takes a closer look at innovators in the profession, including three athletic trainers who have invented products to improve the health and safety of athletes. In the article, "The Innovators Among Us," Michael Kordecki, DPT, SCS, ATC, shares the inspiration behind his invention, the RipKord Quick Release for Football Shoulder Pads.
The idea for the RipKord struck Kordecki while he was sitting in a continuing education seminar on the management of cervical spine injuries. As MaryBeth Horodyski, EdD, LAT, ATC, discussed the challenges of safely removing football equipment from a cervical spine injured athlete, a design popped into Kordecki's head.
"By the end of that session, I had sketched out a basic design," he said. "On my way home, I stopped at a local sporting goods store. I went into my home workshop, and by 2 a.m. I had my first working prototype. That was Sept. 9, 2012. By Oct. 31, 2012, I had filed my first patent application to protect my idea."
While Kordecki knew he had a lifesaving idea, he also knew he needed help making it a functional piece of equipment that worked for real-world athletes, in real-world situations. He turned to the athletic training community for support and insight.
"The first person who showed her unwavering support was Dr. Horodyski," said Kordecki, adding that she invited him to her yearly research project on cervical spine injuries at the University of Rochester where she and her colleagues ran a pilot study on the RipKord.
Kordecki also reached out to Tony Medlin, the head equipment manager of the Chicago Bears, and Brian McCaskey, the first person with whom he shared the working prototype.
"I barged into his house on a Saturday afternoon after waiting in his driveway for him to return home after vacation," he said. "Brian facilitated the many meetings with the various groups in the NFL and ensured, along with Tony Medlin, the Chicago Bears were the first team in NFL to use the RipKord technology."
He sought out Ron Courson, ATC, PT, NRAEMT, associate athletic director and head athletic trainer at the University of Georgia, after learning about his involvement  with the NCAA and NFL's head and neck committees.
"I asked if he would review a video I made of the RipKord demonstration," Kordecki said. "After seeing the video, his words were, 'How can I help?'"
Erik Swartz, PhD, ATC, with the University of New Hampshire, a leader in research on equipment removal in the spine injured athlete, was his next call.
"His response was also 'How can I help?'" Kordecki said. "Both Eric and Ron have been instrumental in not only the research aspect of the RipKord, but also in educating members of the various medical professions involved in emergency care of athletes with cervical spine injuries.
"One thing that really touches my heart is every AT I reached out to was not only willing to help me with whatever I needed, but none of them ever asked, 'What's in it for me?'"  
Kordecki said so many others helped put him on his path, including John Norwig, ATC, of the Pittsburg Steelers; Tim Bream; Bobby Slater; Chris Hanks; and the entire Chicago Bears athletic training and medical staff, including head coach Lovie Smith, Team President George McCaskey and in-house counsel Cliff Stein.
"Keith Van Horne, former offensive tackle for the Bears, was our model and subject for a number of the studies and videos we shot," Kordecki said. "Thad Ide, Chris Kays and the team from Riddell sports were great partners. My patent attorney supported my vision. The list goes on and on. Above all, my wife Diane, is biggest reason this project is successful. Diane's support, understanding and her kind words at just the right time when I was struggling is what made me persevere."