October 3, 2022 by
Beth Sitzler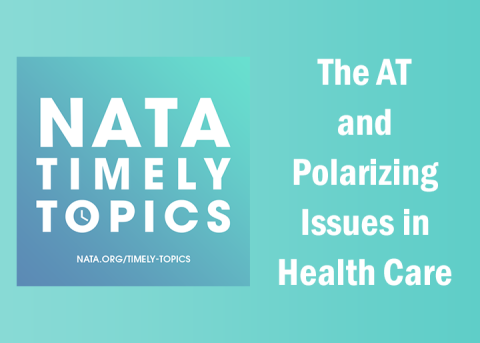 By Lydia Hicks
The next NATA Timely Topics event, "The AT and Polarizing Issues in Health Care," at 11 a.m. CDT Oct. 11, is a forum for athletic trainers to have their questions answered regarding current societal health care topics affecting the profession.
The event will offer attendees the opportunity to connect with thought leaders with expert knowledge on these concerns that ATs can apply in their settings.
"First of all, we do have three of our own committee chairs that will be joining us, which speaks to the strength of those resources and our membership," said NATA District One Director Diane Sartanowicz, MS, LAT, ATC, who will moderate the discussion. "The other speakers … are true leaders in their field. ... They've been advocates of NATA and they've been truly partners with our profession."
The event will feature six panelists equipped with varying backgrounds within health care and athletic training: George Chiampas, DO, Mary Lloyd Ireland, MD, Amy Powell, MD, Jennifer Rheeling, MS, ATC, Jennifer Sturtevant, MBA, LAT, ATC, and Lovie Tabron, MS, LAT, ATC.
The topics that will be discussed include, but are not limited to, transgender health care, job loss due to the COVID pandemic and Roe v. Wade.
"[These] are things that touch some of us across the country in our everyday world and there are some of us who are not exposed to that, so this is where NATA Timely Topics is bringing the subject matter experts to the front so that our members can feel comfortable asking them questions and getting those tools and resources that they need," Sartanowicz said. "We want members to register, to sign up, but, even before [they attend the event], they can submit their own questions."
Registration is free for NATA members and $45 per event for nonmembers. Register now to attend this opportunity to have your questions answered during this timely discussion.
View more topics lined up in the series on the NATA Timely Topics Series webpage.
Read further to learn more about the speakers and hear some of their thoughts on why "The AT and Polarizing Issues in Health Care" is important to athletic trainers.

Lovie Tabron, MS, LAT, ATC
Mental Health & Performance Coordinator, University of Georgia Athletic Association
NATA ATs Care Commission Chair
Lovie Tabron, MS, LAT, ATC, joined the University of Georgia (UGA) Athletic Association as behavioral medicine coordinator in July 2017. Her primary responsibilities include preventive programming, staff/student athlete education, immediate care, management, treatment and rehabilitation coordination of behavioral medicine illnesses. Tabron is one of few ATs fully dedicated to behavioral medicine in the NCAA. As an advocate for the AT profession, she currently sits as chair of the NATA ATs Care Commission and chair of the Southeast Athletic Trainers' Association ATs Care Committee. 
Prior to arriving at UGA, Tabron was assistant athletic director for sports medicine at Southern University in Baton Rouge, Louisiana. She arrived at Southern University by way North Carolina Agricultural and Technical State University, where she worked as an athletic trainer with the track and field program for four years. The Wilson, North Carolina, native completed her undergraduate studies at East Carolina University, where she received a bachelor's degree in athletic training in 2010. Tabron completed her graduate studies in 2014 at California University at Pennsylvania, receiving a master's degree in exercise science and health promotion with a sports psychology concentration.
"We are living in a world where the prevalence of current issues is amplified by social media, television and the access to instant communication," Tabron said. "We all need spaces and people to discuss our reactions to these events so that we can be healthy and whole."

Jennifer Sturtevant, MBA, LAT, ATC
Ambulatory Services Supervisor, Tufts Medicine at MelroseWakefield Hospital
NATA LGBTQ+ Advisory Committee Chair
Jennifer Sturtevant, MBA, LAT, ATC, serves as the ambulatory services supervisor, which includes coordinating the athletic training program, for Tufts Medicine in the Greater Boston area of Massachusetts. Sturtevant is co-chair of the Diversity, Equity and Inclusion (DEI) Committee for her organization with a passion for working toward creating an inclusive, equitable and accessible environment for patients, employees and the communities they serve. Sturtevant is the current chair of the NATA LGBTQ+ Advisory Committee.
"Athletic trainers should attend this event to have open dialogue about the issues we see today in health care, understand how we may be contributing to the problem and brainstorm ways that we can be a part of the solution," Sturtevant said.
Jennifer Rheeling, MS, ATC
Athletic Trainer, District of Columbia Interscholastic Athletic Association Sports Medicine,
NATA Secondary School Athletic Trainers' Committee Chair
Jennifer Rheeling, MS, ATC, is a 31-year employee of the District of Columbia Public School (DCPS) system, having served as an athletic trainer for the DCPS DC Interscholastic Athletic Association since 1991. Throughout her professional career, Rheeling has engaged in many endeavors to advance the profession of athletic training, including serving on various NATA, Mid-Atlantic Athletic Trainers' Association, District of Columbia Athletic Trainers' Association and local committees and work groups.
Rheeling is a proud 35-year member of NATA and is currently the chair of the NATA Secondary School Athletic Trainers' Committee. She has received many awards for her leadership and advocacy endeavors.
Rheeling earned a bachelor's degree in education and biology from Millikin University in Decatur, Illinois, in 1990 and a master's degree in athletic training from Indiana State University in Terre Haute, Indiana, in 1991.
"ATs should attend this event because understanding and collaboration are necessary to work toward compromise on polarizing issues," Rheeling said. "It is critical to take different points of view and experiences into account when discussing hot-button issues. Exposure to a point of view different than our own helps us to be more empathetic and understanding, as well as give consideration to alternate ways of thinking. These all help us become better people and better practitioners."
 
Amy Powell, MD
Sports Medicine Physician, University of Utah
Amy Powell, MD, is a sports medicine physician who serves as a team physician at the University of Utah. She is the immediate past president of the American Medical Society for Sports Medicine. She attended medical school at the University of Washington, then completed internal medicine residency in Seattle before a sports medicine fellowship at the Cleveland Clinic Foundation. She specializes in the care of athletes and active people of all ages, focusing on attaining and maintaining a patient's physical performance goals. Powell's clinical interests include non-surgical management of musculoskeletal problems afflicting active people across the lifespan. She has specific clinical interests in prevention and management of injuries in the female athlete, metabolic bone disease and non-surgical management of osteoarthritis in active patients.
Mary Lloyd Ireland, MD
Orthopaedic Surgeon and Full Clinical Professor, University of Kentucky Department of Orthopaedic Surgery and Sports Medicine
Mary Lloyd Ireland, MD, founded the Active Women's Health Initiative through the College of Health Sciences at the University of Kentucky in 2018. She is the co-director of this initiative. It's mission is to optimize health and promote physical activity and wellness for girls and women across the lifespan.
Ireland served as team physician for Eastern Kentucky University for 18 years and team physician for the University of Kentucky for 11 years. She served as medical coordinator and head physician for the Bluegrass State Games for 11 years. She has also served in the U.S. Olympic Sports Medicine program for numerous teams and was a medical staff member at the Olympics in Barcelona, Spain in 1992.
She is a fellow of the American Academy of Orthopaedic Surgeons and American College of Sports Medicine. She is a member of the American Orthopaedic Society for Sports Medicine, Ruth Jackson Orthopaedic Society, and an affiliate member of the National Athletic Trainers' Association. She has been a member of the Kentucky State Advisory Council on Athletic Trainers since 1992.
Ireland was named Southeast Athletic Trainers' Association Sports Medicine Person of the Year in 1997 and was the recipient of the President's Challenge Award from NATA in 1998.
George Chiampas, DO
Assistant Professor and Attending Physician, Feinberg School of Medicine at Northwestern University and Northwestern Memorial Hospital
George Chiampas, DO, has been chief medical officer of the U.S. Soccer Federation, chief medical officer of the Bank of America Chicago marathon, team physician of the Chicago Blackhawks and Chicago Bears, and member of the FIFA (international soccer governing body) medical committee. Chiampas is an assistant professor and attending physician at the Feinberg School of Medicine at Northwestern University and Northwestern Memorial Hospital. He also serves as associate director of Emergency Medical Services and medical director for Community and Sports Event Preparedness and Management at Northwestern Memorial Hospital.