October 29, 2019 by
Beth Sitzler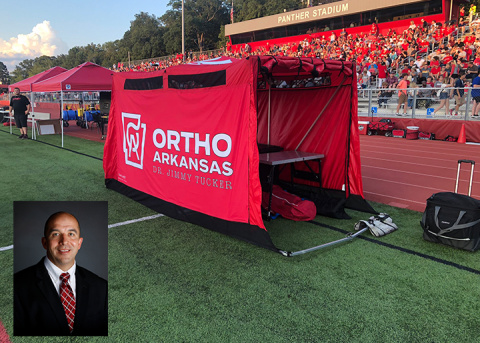 Jeff Allen, MEd, ATC, associate athletic director for sports medicine at the University of Alabama, was one of three athletic training innovators featured in the November NATA News article, "The Innovators Among Us." Inventing the SidelinER in 2015, Allen knows firsthand what it's like to bring an idea from conception to production.
"I think that's the biggest thing – a lot of people have ideas, but how do you take that idea and bring it to reality?" he said. "How do you make something you have in your head come to fruition?"
Seeing a need for privacy when treating or evaluating an injury on a sideline, Allen teamed up with the University of Alabama Engineering Department to create a portable, pop-up structure.
"I tell people all the time that necessity is the mother of invention, and I just felt like there's got to be a better way we could do this," he said. "At that time, I was just thinking, 'Wouldn't it be nice to build something for Alabama that would be unique and something we could use?'"
The SidelinER made its national debut during the University of Alabama's first home game of the 2015-16 season.
"A player was injured, so we brought him off the field," Allen said. "[ESPN reporter] Holly Rowe began making a B-line to our sideline table area because she wanted to see what's going on. We get the player on the table, and all of a sudden, we start raising the SidelinER over the table.
"I could just see her face, and she mouthed, 'Are you kidding me?'" Allen said with a laugh.
After evaluating and treating the player in the privacy of the SidelinER, the athletic training staff were able to return him to the game.
"Near the end of the game, Holly came up to me and asked, 'What in the world is that and what in the world are you doing?'" he said. "I'll never forget it, she said, 'You just made my job a whole lot harder.' I laughed with her and said, 'Well, if we've made your job harder, we've achieved our goal of privacy.'
"Holly was great about it. She is a big supporter of athletic training and she immediately understood the purpose of it."
After that national introduction, Allen began receiving calls and emails from athletic trainers and athletic programs around the country asking about the SidelinER and where they could get one.
"I think people, especially other athletic trainers, tell me that they can see the practicality to it," Allen said. "They can see it's function. So it was a very good reception. We had a lot of interest right off the jump."
Since joining forces with the engineering department on the SidelinER, the two departments have found other ways to collaborate.
"They've started working with us on 3-D imaging for braces and other things," Allen said. "It's really opened up a lot of doors for us."
Allen encourages other athletic trainers to find people in their community who can help them bring their ideas to life.
"I think about on our campus, we have access to a lot of expertise," he said. "I think it's critical to build relationships with these experts. If you're in an environment like I'm in, at a university where there are some extremely intelligent people who are willing to help if called on, you need to take advantage of that."