March 21, 2017 by
Beth Sitzler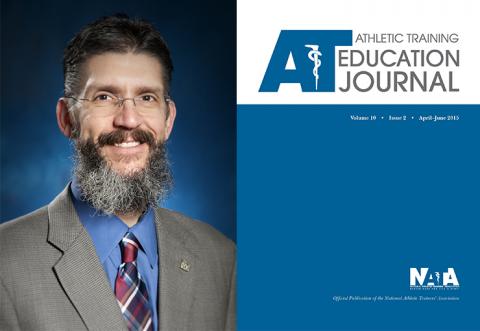 The April NATA News – NATA's annual Education Issue – features an article about the Journal of Athletic Training (JAT) and Athletic Training Education Journal (ATEJ), detailing the publications' growth over the years and what's to come in 2017.
In June, during the 68th NATA Clinical Symposia & AT Expo, David Berry, PhD, ATC, will take over as editor-in-chief of ATEJ after Kimberly Peer, EdD, ATC, FNATA, steps down from the role.
"Of course my goal is to continue to push the journal forward, working on the great foundation that was established by Kim Peer, Bill Pitney and the editors before them," said Berry, who has served as a senior associate editor of ATEJ for the past four years and previously sat on the publication's editorial board.
"I think every editor's goal is to do a little bit better than the person before and move that journal in a stronger, better direction, and that's my ultimate goal. I know it's going to be a challenge, but I think it's one I have trained for."
With 25 years of athletic training under his belt, Berry has spent the past 18 years teaching higher education as an athletic training educator. He earned his bachelor's degree in health education from the University of Massachusetts Lowell and master's degrees in teaching from Sacred Heart University, athletic training from Western Michigan University and health care administration from Saginaw Valley State University. He also earned a PhD in curriculum and development from Ohio University.
"I'm excited to have been selected as the next editor-in-chief," he said. "I know I have large shoes to fill. I hope to bring together a senior editorial board that will help to meet my goals and the goals of the journal and the board of directors. I look forward to that challenge."
Although his official appointment to the editor-in-chief position is still a few months away, Berry said he has already started to solicit a possible special edition related to the athletic trainer's role in U.S. health care and how athletic training students need to be prepared educationally to fill this role. 
"I want to make sure that we continue to more forward rather than backwards," he said.
"I definitely would like to see stronger studies that look at the pedagogy of athletic training. As well, I'd like us to start looking at education not only from a professional and post-professional perspective, but start looking at continuing education for the certified athletic trainer as well."
Berry said he believes the journals are how other professions identify athletic training, so it is essential that they feature quality studies as well as strong evidence and systematic reviews.
"As a profession, we only have two major outlets for athletic trainers that's supported by the professional association – we have the Journal of Athletic Training and the Athletic Training Education Journal," he said. "These are the pinnacle places for research for this profession. … These need to be the two best and most accessible to the members and the public."
It takes many hours and several hands to produce ATEJ, and Berry said he looks forward to working with the dedicated volunteers and staff members who make each edition a reality.
"It's all about the people you work with and have around you, and I can't say enough about the managing editorial staff we have," he said. "I wouldn't know what I'm doing without Leslie Neistadt [ATEJ and JAT managing editor]. She has been my lifeline to organize me and make sure things are being done in the correct way. I think that team tends to get overlooked, so I think they deserve a lot of recognition. They are what we see in the journal at any point in time."