June 11, 2021 by
Beth Sitzler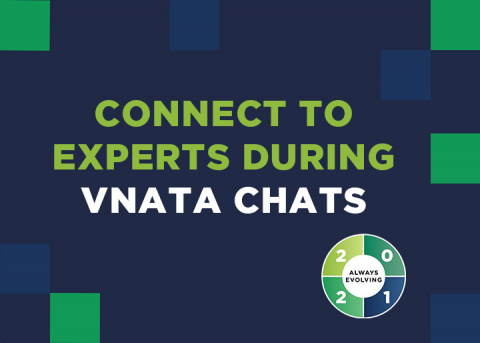 As the premier event for athletic trainers, the 2021 NATA Virtual Clinical Symposia & AT Expo connects attendees to CEU-earning educational opportunities, the latest in sports medicine products and services, thought leaders in health care and colleagues from around the world – from anywhere and at anytime live June 22-24 and on-demand though Sept. 30.
Among the various educational and engagement opportunities taking place during VNATA 2021, attendees don't want to miss out on the return of VNATA Chats, which provides a space to connect with subject matter experts and colleagues, ask questions and talk openly.
During these moderator-led, peer-to-peer discussions, VNATA Chat attendees will be able to learn about a variety of topics important to the athletic training profession and speak directly to experts. This year, the 30-minute VNATA Chats will include:
12:45 to 1:15 p.m. CDT Tuesday, June 22
ATSS Career Panel           
Cannabis, CBD and Patients        
Ethics/Professional Values, from NATA Professional Responsibility in Athletic Training Committee and NATA Council on Practice Advancement            
Mental Health: ATs Focus            
Tools To Advocate for Yourself in Your Workplace            
1:30 to 2 p.m. CDT Wednesday, June 23
COVID-19 and the AT: A Year Later
Diversity, Equity, Inclusion and Access
Mental Health: Patient Focus
Transitional Employment Workgroup
Transition to Retirement
Learn more about VNATA Chats and what else VNATA 2021 has planned by visiting the Schedule webpage on the convention website.
Register Today!
Early registration for VNATA 2021 – $179 for current professional members – is available through June 21. After that date, registration will increase to $229 for current professional members through Sept. 30. Current professional members can save an additional $50 by prepaying their 2022 NATA membership dues. Retired and honorary members can register for VNATA 2021 for free.
For the entire pricing breakdown, more information and to register, visit the convention website.