June 27, 2017 by
Beth Sitzler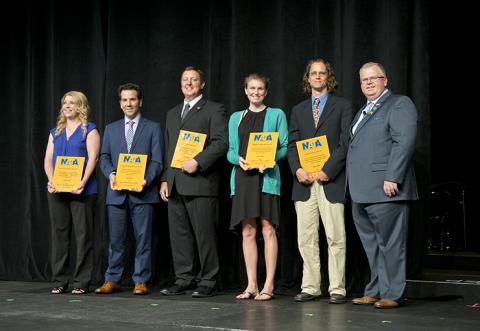 NATA will recognize its national award winners during the Hall of Fame Induction Ceremony at 2 p.m. Wednesday, June 28, in George R. Brown Convention Center Hall C. Throughout the 68th NATA Clinical Symposia & AT Expo, NATA and its many committees have honored the hard work and dedicated of members who have made a lasting contribution to the profession.
"Being involved with the NATA award selection process gives one an inside look at the incredible volunteer efforts that take place within our association and profession on a regular basis," said NATA Honors and Awards Committee Chair Charles Thompson, MS, ATC. "The involvement of our members from every setting and at every level—local, state, district and national—and from every generation of athletic training is remarkable. It makes it clear why our association has grown and why the profession itself has attained such stature across the medical spectrum. 
"The various award committees are faced with the enviable/unenviable task of sifting through all of the tremendous effort and passion to select those members who stand out the most and are selected for the various awards." 
This year, NATA will induct seven members into it's Hall of Fame. Inductees are John H. Anderson, MS, ATC, Fran Babich, MS, ATC, Tanya Dargusch, LAT, ATC, Katherine I. Dieringer, EdD, LAT, ATC, MaryBeth Horodyski, EdD, LAT, ATC, Jeff McKibbin, MEd, LAT, ATC, and Michael O'Shea, MA, ATC, LAT.
NATA would like to congratulate all of the 2017 award winners!