March 12, 2019 by
Beth Sitzler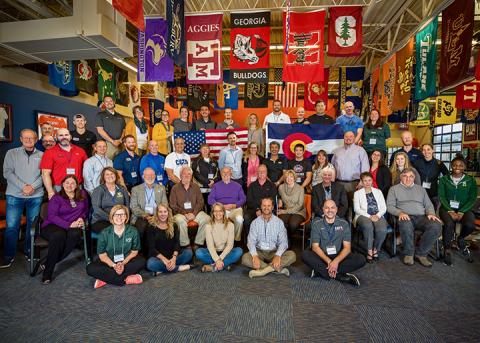 By Kim Diggs
Getting government backing on issues that directly affect athletic trainers is no easy feat. This is why the Colorado Athletic Trainers' Association (CATA) has recently galvanized athletic trainers statewide, utilized the social currency of high-profile athletes and consulted with their lobbyist to accomplish their current goal – to be covered under the Sports Medicine Licensure Clarity Act that passed in October 2018. The bill they are requesting has been voted in favor by the House of Representatives and went through two rounds on the Senate floor before being passed March 4. The bill is now with Gov. Jared Polis to sign into law or veto. 
All of these strides toward a more inclusive bill would not have been accomplished without collaboration.
Here are a few crucial steps that Jim Keller, ATC, CATA president, and Deanna Kuykendall, manager of government affairs for NATA, suggest ATs take when harnessing the power of collaboration to accomplish major goals.
1. Get to know your lobbyist(s).
When attempting to change legislation, it is best to consult with your lobbyist to craft an appropriate plan of action as they have a more intimate relationship with the local and national political sphere. The idea to get Denver Broncos players to speak out in support of their athletic trainers came from the CATA lobbyist. Keller attributes much of the media coverage and exposure to the general public and representatives to this step.
2. Become active in your community.
Creating interest around subjects such as nutrition, sport safety and more without asking anything of the public positions you as a genuine leader who cares about the community. Hosting public safety events prior to needing any assistance is ideal as community members and leaders may be more apt to assemble on your behalf to reciprocate the love and support.
3. Build a rapport with your state representatives.
Because legislators are constantly being pulled in various directions, Kuykendall says it's easier to get an audience in the House and Senate when they are familiar with you. Treating a legislator to a working meal or coffee date in the community they represent may help them feel more in touch and inform them about new happenings.   
4. Get to know athletic trainers with decades of service with one organization.
Keller says one of his mentors is Steve Antonopulos, MA, ATC, the head athletic trainer with the Denver Broncos of 43 years. Antonopulos' extensive experience made him a solid sounding board for best practices in incorporating athletes in the sharing of CATA's story, which allowed for more public and state representative buy-in. Keller also extensively worked with long-term ATs at both the high school and college level. Keller suggests that playing to the strength of the seasoned AT (whether it be providing connections or public speaking) is key in accomplishing major goals.                                   
5. Consult your Governmental Affairs Committee.
The members of this committee are the first line of defense when crafting a plan. Because they are most in tune with political developments in the world of athletic training as it pertains to your state, they will have likely have some ideas about what to ask of your lobbyist and/or NATA in order to devise a plan.
6. Consult NATA for additional collaboration ideas, if needed.
The NATA Government Affairs Department is grand central station for all of the state associations and, thus, handles a bevy of tasks. One major task is aiding states in crafting a polished marketing and PR strategy to capture the attention of the public and legislation. In addition, NATA provides resources that help states interview and hire lobbyists, if needed. States encountering similar issues can be connected through NATA and the Government Affairs Department can provide insight on the course of action other states took to achieve political success.  
7. Devise a plan prior to asking for help outside of NATA.
As Keller says, "I don't believe you can ask people to jump on your cause if you can't even explain it." Developing a clear course of action, after consulting your resources, and crafting a support team is essential prior to involving any additional parties.
8. Open a line of communication with professional sports organizations, colleges and secondary schools.
Though it is easy to see the benefit of using the social currency of professional athletes in sharing your story, Keller suggests that college and secondary school teams shouldn't be overlooked when attempting to bring public awareness to a cause. Harnessing the pride students and parents alike have for these teams will create interest around the athletic trainers aiming to spread the word.
9. Diversify your support base.
CATA has forged relationships with doctors in various careers settings and it has proven to benefit them. Doctors from the Colorado Medical Society, Children's Hospital, Colorado Avalanche and many other organizations have joined the push for licensure by testifying on behalf of Colorado ATs. By aligning yourself with other professionals who can relate, you increase your visibility and chance of gaining more support.
10. Encourage supporters to become politically active.
Keeping one focused message and using multiple media channels to get that message out allowed CATA to reach a lot of people willing to volunteer their time to the cause. Athletic trainers in varied career settings were asked to get signatures, travel to the Capitol, send out emails and more in order to spread the word about their mission.