March 21, 2022 by
Beth Sitzler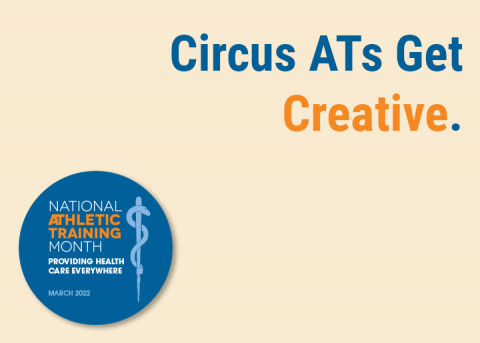 By Elizabeth Quinn
It's National Athletic Training Month! To showcase this year's theme, "Providing Health Care Everywhere," the NATA Now blog will highlight athletic trainers in a variety of setting. Learn about how they're increasing understanding of the profession and how you can, too.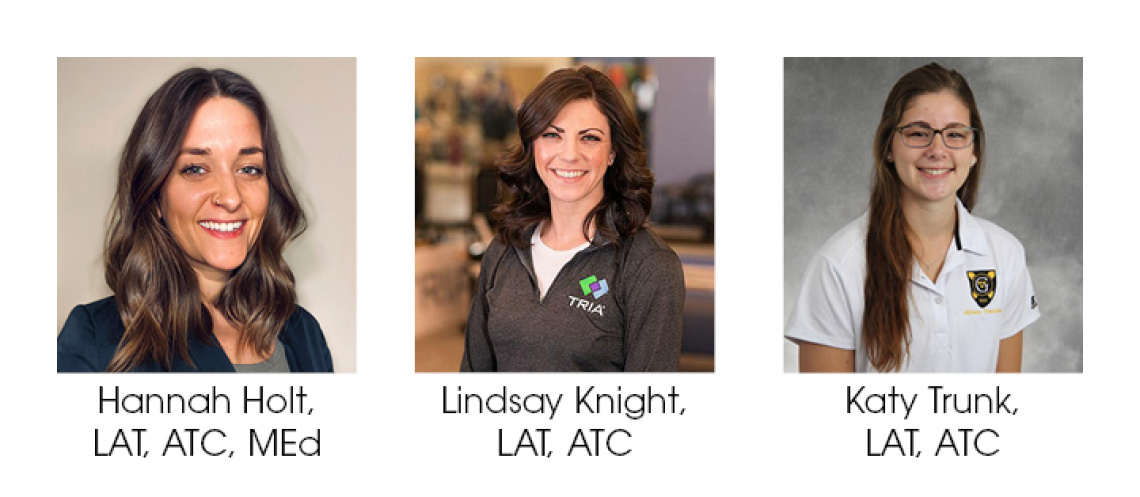 Athletic trainers have been working with performing artists for more than 25 years. According to the National Endowment for the Arts, the U.S. performing arts industry has nearly 8,840 organizations and 127,648 paid workers and generates $13.6 billion in annual revenues.
Behind every performer is a creative, flexible and hard-working athletic trainer, such as Hannah Holt, LAT, ATC, MEd, head athletic trainer at Michael Jackson One (MJOne) by Cirque du Soleil.
"I grew up as a dancer and was always around a lot of the arts and theater, so getting into athletic training, I always thought it would be fun to get back into that setting," she said. "After spending a few years in traditional athletics in the college setting, a position opened up to work with circus arts, I applied, and the rest is history!"
In fact, her passion behind the performing arts setting shined as she worked her way through MJOne. Being promoted to lead the performance medicine department was such validation, Holt said, that the teams trust her vision and skills to build a strong department that supports the artists.
"Working for Cirque du Soleil is definitely different from a standard performing arts setting," she said. "The acts tend to be more high risk and the amount of performances we do – 10 shows a week, 48 weeks a year – can pose a challenge to managing workload. But it's absolutely the best job I've ever had. The work-life balance cannot be beaten, and it's such a blast working with these artists and getting to know people from so many different walks of life. Can't recommend it enough!"
Although there are some daily challenges, such as working with high-level athletes performing high-risk circus acts, Holt has found the performing arts setting to be unlike any setting she has come across, and she was reminded of that on her very first day.
"On my very first day at Michael Jackson One, I was so excited, but a bit nervous coming into a setting that felt very unfamiliar," she said. "Working with professional acrobats and dancers, I was a little intimidated by the serious, prestigious nature of the job. After meeting some people and orienting into the space, we all went up to the stage and got to learn how to do the famous Michael Jackson lean! It was such a great reminder that while we work with high-level athletes and put on a massive production, this is a really fun and exciting environment that gives us experiences we will never have elsewhere."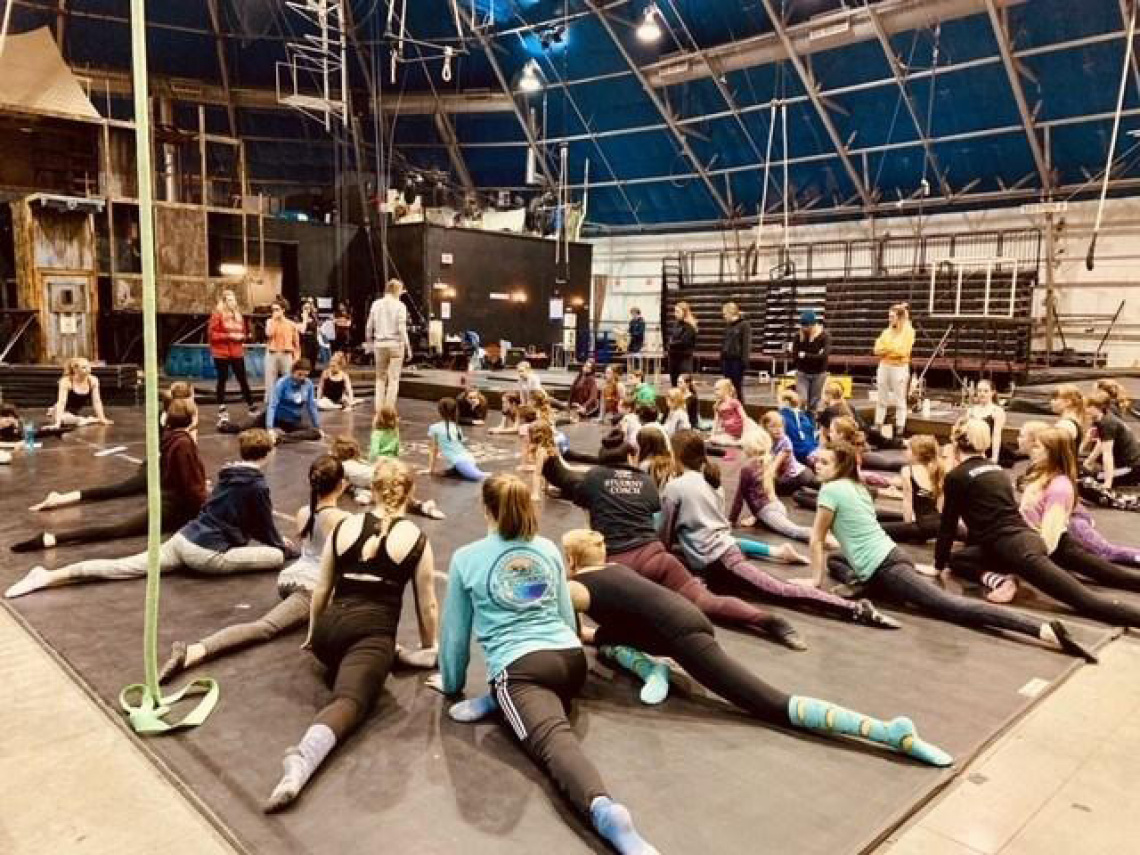 Prepped, Prepared and Persistent
Learning curves and creativity can be one way to describe the everyday experience of athletic trainers in the performing ats setting, which keeps them on their toes. Lindsay Knight, LAT, ATC, and Katy Trunk, LAT, ATC, work for TRIA Orthopedics East Side Clinics and Circus Juventas. They agree that the challenges they are presented with daily are just a part of the job.
"I had [to figure] out new ways to tape and how to blend it into the costumes and to prevent the tape from getting stuck during certain acts," Knight said. "Also learning how to spine board in a flying net or on a trampoline was something new and challenging that I had never done until starting with Circus Juventas."
Since the performers are hanging from apparatuses, the tape and bracing needs to be supportive, and look like it doesn't exist, Trunk said.
Knight's creativity as an AT presented itself during the biggest production of the year. One of the main performers had an injured foot and needed a more ridged shoe, she said.
"After digging through all our kits, I decided to cut up a Sam Splint and turn it into a shoe insert," Knight said. "It worked perfectly, and the performer was able to continue in all the shows without any issues. I love that this job always challenges me to think outside of the box every day."
In addition to inventing new techniques, ATs in the performing arts setting need to be prepared for anything. Trunk cleaned and bandaged a circus athlete with a cut on her forehead after hitting it on a unicycle pedal, but after she finished her next act, she came back with blood covering her face.
"She came back after the act with her face covered in blood as her cut had opened back up," Trunk said. "Turns out when you are in a handstand for 10 to 15 minutes, blood really does rush to your head and will reopen any facial wounds that you might have."
Oftentimes in the performing arts setting, there is no room for error. One of the keys to a perfect show includes a concrete emergency action plan (EAP).
"We work with high-level athletes and very high-risk circus acts that occur on interesting sets or apparatus (e.g., trampolines, aerial acts, confined space, complex costumes, etc.)," Holt said. "Because of this, we need to have specific EAPs to rescue an artist should they get hurt. In traditional sports, we're used to stabilizing an artist on a stable surface, but here, we need to develop ways to stabilize significant injuries in various positions and do so in a way that keeps them safe."
Tips and Resources for Interested ATs
For athletic trainers interested in the performing arts setting, Holt and Knight have some advice:
Immerse yourself in the circus arts and acrobat scene on social media. "We work with so many disciplines, so it's really fun to see the exciting, interesting or unique acts that artists put together," Holt said. "Many of our artists are former Olympians and national champions, so it's really cool to see what they can do at our shows. And if you're interested in working with circus artists, it's always good to have a frame of reference of the types of acts that exists, how the body moves, and also the level of risk each act might have."
Attend continuing education sessions on performing arts. "NATA has a few sessions," Knight said. NATA offers preconference workshops for ATs in the performing arts or those interested in the setting. Details about the 73rd NATA Clinical Symposia & AT Expo workshops can be found on the convention website.
NATA also offers multiple learning opportunities and resources for ATs in the performing arts setting.
Be sure to connect with other athletic trainers in emerging settings, including fellow performing arts ATs.
For more information on the performing arts setting, contact the Performing Arts Committee on the Council on Practice Advancement.