April 2, 2020 by
Beth Sitzler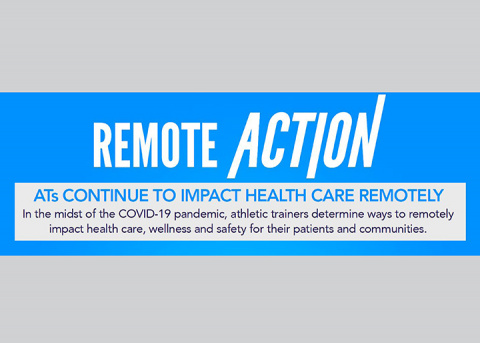 In the midst of the COVID-19 pandemic, many athletic trainers are exploring new ways to work, including telemedicine and online learning. As ATs work to find a new normal, NATA is here to help.
The NATA Secondary Schools Athletic Trainers' Committee has created the COVID-19: Remote Work Checklist for Secondary School ATs, which outlines suggestions and supportive resources to guide secondary school ATs as they continue to impact health care from afar during the COVID-19 pandemic.
SSATC developed this resource to help secondary school ATs navigate this surreal time. Even within the secondary school level, COVID-19 has had various effects on employment and day-to-day operations for ATs. For full-time ATs employed by a school or school district, they may find themselves with more time on their hands than usual to dig into administrative work, advocacy efforts or professional development. For ATs balancing a dual position, the checklist features ideas and resources for providing remote patient care and online learning. For ATs who have been furloughed or looking for employment opportunities, consider supporting health care systems in your area.
While SSATC designed the checklist with the secondary school setting in mind, all athletic trainers are encouraged to download the resource and use it as inspiration as they plan their days and determine where they want to make an impact. This is not a comprehensive list, but a good starting point and may help ATs find resources they didn't know existed.
If you have your own personal resources related to the content shared or are making an impact while working remotely in your own creative way, we encourage you to share with your peers on Gather. 
NATA is proactively addressing the pandemic on numerous fronts. Stay up to date on the latest resources and information related to COVID-19 provided by NATA by bookmarking our COVID-19 resource page.