June 28, 2018 by
Beth Sitzler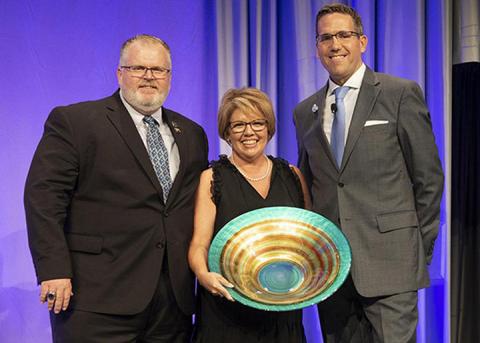 Something rather rare happened Thursday, June 28, during the 69th NATA Clinical Symposia & AT Expo: All 13 living NATA presidents came together for the Hall of Fame Breakfast – including outgoing NATA President Scott Sailor, EdD, ATC, and incoming NATA President Tory Lindley, MA, ATC.
NATA's Changing of the Guard officially took place during the annual General Session later in the day. After thanking the membership for its support and reflecting on his three years serving as NATA's 13th president, Sailor welcomed Lindley to the stage to take the reigns and give the annual State of the Association address.
"The work that you have achieved over these past years as president has been remarkable. It certainly has come with a lot of personal sacrifice as well," Lindley said before bringing Sailor's wife, Stacey, to the stage to be recognized. "The profession owes you, Scott, and Stacy, as well as your three daughters, a debt of gratitude."
Lindley began the State of the Association by welcoming members "home."
"No matter your setting, no matter your path or your professional journey, this association is committed to being as much as it can be for you," he said. "Every setting has a home at NATA. NATA exists for all 45,000 of us. Thank you for being a member. And thank you for coming home."
Lindley touched on the various advances and achievements of 2017. From NATA's public awareness campaign At Your Own Risk to the Sports Medicine Licensure Clarity Act, NATA has advocated to elevate the profession, enhance the image of athletic trainers and influence public opinion and policy.
"It is indeed a progressive time for our profession," he said, adding that 2017 also saw the creation of the NATA Intercollegiate Council for Sports Medicine, which expands on the work accomplished by the College and University Athletic Trainers' Committee, and the Sports Medicine Legal Digest, a quarterly digital publication that examines legal issues that can affect the daily practice of athletic trainers.
"In addition, we continue to initiate research and collaborations to advance the mission of our profession. Once complete, the NATA liability insurance study will examine the financial impact of athletic training on insurance premiums at the secondary school level. We are also investing in athletic training education by renewing funding for NATA's Education Research Grant initiative."
Lindley said it is because of member support that NATA has been able to reach such accomplishments, adding that by renewing their membership, they're making an investment into the future of the profession and advancing their commitment to patient-centered care.
"While we each have a unique path that led us to this great profession, one thing we all have in common is a passion for what we do," Lindley said. "I am not standing on this stage today because of talent. I am here because I am obsessed with our profession.
"As an association we must be proactive, yet nimble to respond to opportunities for innovative collaboration and professional growth. Further, the leadership of the [Athletic Training] Strategic Alliance will continue to be committed to tireless communication and motivated to advance our mission and vision."
Lindley explained that athletic training is built on the core principle of patient care, and athletic trainers often pride themselves on their behind-the-scenes work to help others reach their fullest potential. Now, however, it's time to bring the compassion and innovation that athletic trainers are know for to the forefront.
"You are proud of our history and motivated to create a better future," he said. "More and more, ATs are moving out from the shadows to be more vocal about your impact and your value in health care. But we can do more. You can do more. Advocacy should start with you.
"As a profession, we want to take the community and media from a casual acquaintance of the profession, to truly understanding the unparalleled impact we have on work, life and sport. As we charge forward, you may be thinking, what else can I do?"
Lindley said one thing members can do is to "choose to look like health care." Some ways this can be done include ensuring a health care provider is writing their performance evaluations and creating a life balance plan.
"Young professionals deserve the chance to begin their career as an AT and retire as an AT," he said. "This requires widespread improvement in job quality and advancement of the medical model. We want to make intentional strides to align our position with physicians and patient-centered care. Our patient's scoreboard shall not define our success as clinicians, our skillset and professional identity will.
"We have a duty to establish and enforce a standard of care in many settings, especially secondary schools and college athletics. As that drives enhanced health care and job creation, we will continue to pursue new employment settings, both domestic and international for ATs to exhibit their value."
All athletic trainers, no matter their setting, share a devotion and compassion for their patients, athletes and clients. Lindley encouraged everyone to be proud of being an athletic trainer.
"I look forward to finding opportunities to connect with you on our biggest professional challenges," he said. "Today is your day to step out from the shadows. Today is your day to be AT proud. Today is your day to be brilliant. Thank you and thrive on, NATA!"