April 3, 2020 by
Beth Sitzler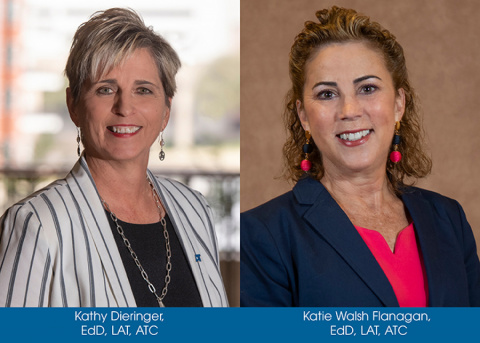 The April NATA News is now available online. In this issue, NATA presidential candidates Kathy Dieringer, EdD, LAT, ATC, and Katie Walsh Flanagan, EdD, LAT, ATC, share an inside look to who they are on a personal level and as athletic trainers. In the feature "Get to Know the Presidential Candidates," they answer questions about everything from how they first got involved in volunteering for the profession to little-known facts about them.
In addition to the nine questions asked in NATA News, NATA asked Dieringer and Flanagan a 10th question:
What is your favorite thing about being an athletic trainer?
"My favorite part is definitely the relationships with patients, physicians, ATs, PTs, OTs and my community. Working with highly competitive collegiate and elite athletes, watching them grow into young adults and meeting their families years later is such a joy. The encounters I've had with high school and youth sports athletes, especially those who are exposed to very little health care outside of my visits, continue to be humbling and motivating. Our older patients, whose goal is to try to stay ahead of their aging bodies, are truly inspirational. Of course, the collaboration and lifelong friendships with other health care professionals, but especially my AT brothers and sisters, is life changing. Regardless of the setting, the relationships we develop, the impact on patients' lives and within our communities – that's what I love the most." Kathy Dieringer, EdD, LAT, ATC
"The people! I was hooked with the first tournament I worked as a student, and it only got better when I started attending athletic training state, district and national meetings. Where else can you meet annually, interact with the same dedicated, driven people with whom you graduated, traveled, worked games, tournaments or other events? Where else does everyone in the room truly understand why you put in the time and research to get one person better? We all have the same core training, yet we practice in so many really fascinating job settings; and we all have in common the same grit, dedication and curiosity. The storytelling ability of athletic trainers is legendary. The ability of an AT to spin a tale, describe an injury, discover a new treatment/rehabilitation/tool and make it sound like the most fascinating thing ever is priceless. People who are fortunate enough to be athletic trainers are compassionate, curious, driven, funny and efficient. I think we are among the most interesting group in the world, as every single time I interact with another AT, I learn something; and most often, I leave the interaction smiling." Katie Walsh Flanagan, EdD, LAT, ATC