August 31, 2016 by
Beth Sitzler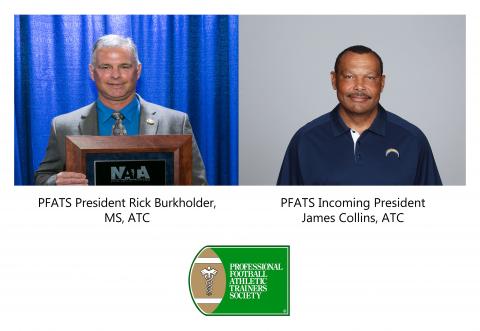 The August/September NATA News featured an article about current Professional Football Athletic Trainers Society President Rick Burkholder, MS, ATC, and Incoming PFATS President James Collins, ATC. The two head athletic trainers discussed the challenges facing PFATS members, recent accomplishments of the society and what they hope to achieve in the future.
Both spoke about their passion for the athletic training profession and the drive they feel to do better for current and future ATs. This passion that has lead Burkholder and Collins to become presidents of PFATS began at an early age.
Burkholder said athletic training has always been a part of his life. A second-generation athletic trainer, Burkholder's father, Richard Burkholder, ATC, has been head AT at the same Pennsylvania high school for 50-plus years.
"I know it sounds corny, but I do work in the best profession in the world, and I believe that. It's been the center of my universe since I was born," Rick Burkholder said. "Athletic training fed me, put me through college, put clothes on my back, allowed me to do things socially that you get to do as a kid."
He attended the University of Pittsburg, where he played soccer and studied communications. He missed athletic training, though, so after earning his bachelor's degree, he made the journey to the University of Arizona for his master's degree in athletic training. After graduation, he stayed on for a year and worked track and field—or "boot camp for athletic trainers," as he called it.
"It's the hardest sport to work, and it was one of the most gratifying years of my life," he said. "I just thought it was neat working with those athletes because they're really in tune with their bodies. … I had to use my skills to get people better who were at 90 percent, but wanted to be 100 percent. I thought it was a great breeding ground."
Burkholder returned to his alma mater, the University of Pittsburg, where he worked as an assistant football athletic trainer and head baseball athletic trainer. He also taught courses in the athletic training program, including evaluation, basic athletic training and rehabilitation.
"I was in the right city at the right time, and the Pittsburg Steelers hired me in 1993, and I was with them through the '98 season," he said, adding that the left to join the Philadelphia Eagles in 1999, where he worked with first-year head coach Andy Reid. "[He] has become a mentor in leadership as well as a real advocate for athletic training. I had 14 great years there with him, and then when he went to [the] Kansas City [Chiefs], I went with him. I'll start my fourth season this year."
While athletic training has always been a part of Burkholder's life, Collins said he "took the long way" to the profession.
"Originally, I was sort of intrigued by the medical side of things," he said. "And I loved sports. I would watch sports, but I was always interested in knowing who that person was who was helping the players when they got injured on the field."
Collins said he wanted to be the person taking care of the players, but he didn't know very much about the athletic training profession or how to get his foot in the door.
"I don't want to blame it on where I grew up, but no one where I grew up had any idea what I was talking about, including my high school counselors. The coach taped your ankles, and if you got hurt, you just went to your family doctor," he said. "I went off to college after high school, and really had no idea how to get involved [in athletic training] still."
Collins attended Morris Brown College in Atlanta, where he walked onto the basketball team.
"The two years that I played, I just watched the athletic trainer and everything he did," he said.
Collins left the college after those two years and joined the Navy, a decision that eventually led him to athletic training.
"That's how I made my way to San Diego and found out about the athletic training program at San Diego State," he said. "Dr. Bob Moore was in charge. I interviewed with him and he got me into the athletic training program."
While at San Diego State, Collins earned an internship with the San Diego Chargers during the 1986 season. He stayed on as a full-time employee after he graduated from college the next year. After two years of working on the sidelines, he went to work with the Chargers' team physician as a surgical assistant and office assistant.
He left the Chargers in 1991 to work for the Denver Broncos under Steve Antonopulos, MA, ATC. Then, in 1996, he became the head athletic trainer for the Philadelphia Eagles, where he remained until February 1999, when he returned to San Diego as the head athletic trainer of the Chargers.
"It was a long way around, but sometimes the shortest route isn't always the best route, and I learned a lot along the way, so much more than if I had gone the normal route," he said of his journey into athletic training.