November 7, 2018 by
Beth Sitzler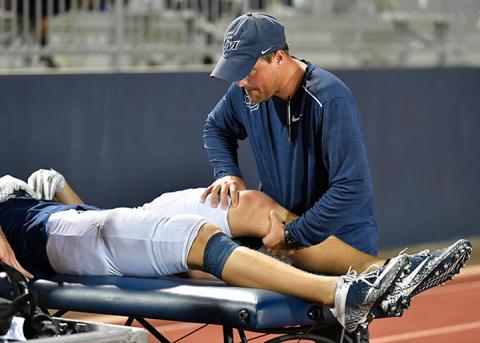 By Kim Diggs
After a two-year stint, the Back to Sports Grant Program has come to a close. Held in partnership with the National Football League and American Heart Association (AHA), the mini-grant program awarded 188 NATA members with a grant to be used to educate parents and guardians of secondary school student athletes.
The stipends and presentation materials that comprised the Back to Sports program were only granted to NATA members. The total amount of all of the grants awarded was $47,000.
The ATs who received the grant organized, promoted and hosted parent/guardian meetings. The aim was to inform them of the dangers, warning signs and necessary response to heat-related illness, concussions, cardiac arrest and other health concerns. Each AT was required to reach at least 30 attendees with the meeting(s) and cover a minimum of three pre-determined topics by utilizing Back to Sports presentation resources and aids.
Each of these meetings was held during the 2015-16 and 2016-17 school years. During this time period, 148 meetings were held across 31 states with 1,670 total parents and guardians in attendance.
In order to measure the effectiveness of these presentations, surveys were conducted pre- and post-meeting.
AHA unpacked the results and created an executive summary. The document lists five major objectives that were accomplished with attendees as a result of the Back to Sports meetings:
An increase in awareness of sports-related health and safety issues
An increase in knowledge of sports-related health and safety issues
An increase in perceived importance of sports-related health and safety issues
Confidence in recognizing sports safety issues and injuries
Confidence in managing sports safety issues and injuries
Before and after the meetings, an assessment was administered to the parents and guardians in attendance to evaluate what is common knowledge and what needs further explanation. Some of the true or false questions asked were:
Cardiac arrest is the same as a heart attack.
Checking urine color is a good way of checking for dehydration.
Heat stroke is a medical emergency.
The trend showed that perfect scores increased post-meeting.
Additionally, a large percentage of the attendees polled indicated they will use the information obtained during the Back to Sports meetings and share it with others.
In an effort to increase parents' knowledge and inspire further trust as health care professionals, NATA members from around the country held community meetings that have proven to meet the allotted objectives.
As of now, there are no plans to accept applications for Back to Sports in the future.