May 4, 2023 by
Beth Sitzler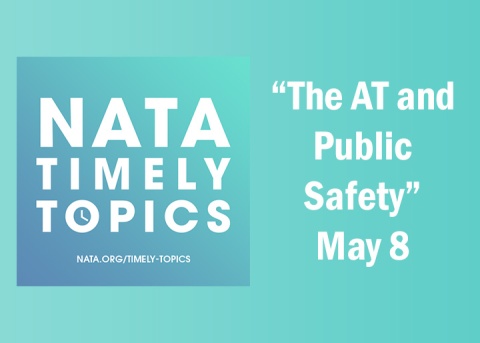 The next NATA Timely Topics event, "The AT and Public Safety", at 1 p.m. CDT May 8, is planned to introduce athletic trainers to the public safety setting.
NATA COPA Public Safety Committee Chair Deena Kilpatrick MS, LAT, ATC, will moderate as Public Safety Committee members Traci Tauferner LAT, CSCS, MCTP, and Kimberly White, DAT, LAT, ATC, are joined by Los Angeles (City) Fire Department athletic trainer Sean Higgs MS, ATC, PTA, on the speaker panel. The event will engage athletic trainers interested in exploring work in the public safety setting. The panel of speakers will provide information and insight from varying perspectives in agency size as well as working with both law enforcement and fire department personnel.
"I initially transitioned into the public safety setting as a graduate assistant in Indiana State University's DAT program where I received the opportunity to help start a 'Tactical Athlete Care Clinic' in a small city in Indiana," White said. "I initially saw my career path going in a different direction and was hesitant to make the transition. However, it has become one of the best decisions I made for my career."
In contrast, Higgs was working in a physical therapy clinic that had contracted with the City of Irvine.
"[I] had the opportunity to work with hundreds of police and firefighters while there," he said. "I realized that I tended to connect well with members of public safety and was able to communicate well with them and earn their trust." 
Working within the public safety setting is incredibly rewarding. 
"I get the opportunity to work with individuals who have chosen to dedicate their lives to their communities," White said. "The patients I work with are often appreciative and this setting has provided me with work-life balance and financial stability." 
"I have so much respect for those that run towards trouble when everyone else is running away," Higgs said of the rewards of working in the public safety setting. "I am thankful that I have a skill set that can improve the physical performance and quality of life for this population."
A career in the public safety setting requires personnel to demonstrate agility, speed, strength and stamina. An athletic trainer in this setting is encouraged to practice at the top of their scope daily to keep these tactical athletes on the job.
Registration for this event is free for NATA members and $45 per event for nonmembers. Register now to attend this opportunity to learn more about athletic training in the public safety setting.