April 6, 2021 by
Beth Sitzler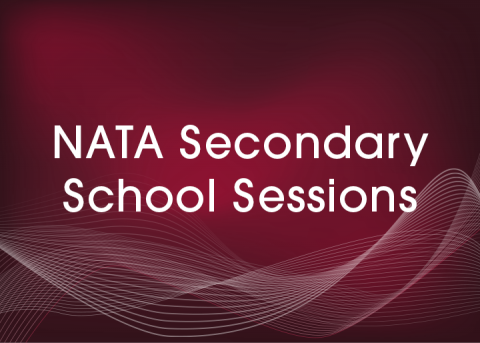 The first event of its kind, the 2021 NATA Secondary School Sessions – held virtually Wednesdays and Thursdays, April 21-May 13 – will provide attendees a unique educational experience designed to advance patient care and enhance policies in the secondary school setting.
Hosted by the NATA Secondary School Athletic Trainers' Committee, the four-week live event was created with the AT's busy work schedule in mind and will consist of short educational sessions in the morning and engaging, peer-to-peer discussions the following evening. SSATC also wanted to ensure attendees had the opportunity to connect with colleagues from around the country as well as thought leaders who could address their specific needs.
"We are unique in that our patients are minors, which presents a set of considerations not necessarily relevant to other settings," said SSATC Chair Jennifer Rheeling, MS, ATC. "Additionally, secondary schools and the delivery of appropriate health care are unique in that a single organization does not provide national oversight, employment models vary widely and access to resources are vastly different. We want to provide information that acknowledges these aspects and provides individual athletic trainers the tools necessary to deliver appropriate, quality health care regardless."
Content presented during the event will cover an array of topics important to athletic trainers in the secondary school setting, including diversity, equity and inclusion in secondary schools; appropriate care of LGBTQ+ patients; supporting student athlete mental health; and the AT's role in managing COVID-19 in secondary schools.
"The content is targeted to our setting, providing extra value to professional development in both dollars and time," said Rheeling, adding that while the event is focusing on the secondary school setting, all interested athletic trainers are encouraged to attend. "ATs who work in clinic or hospital settings and may interact with our patient population as well as students, young professionals or anyone considering transitioning to a secondary school and would like exposure to the nuances of the secondary school setting, would benefit by attending."
When creating the event, SSATC wanted to ensure attendees had the opportunity to connect, ask questions, have in-depth conversations and learn from one another. To foster engagement, discussion sessions are scheduled in conjunction with the educational sessions and event attendees will have access to an exclusive Secondary School Sessions community on Gather.
"I am most looking forward to the discussion sessions," Rheeling said. "Athletic trainers have a wealth of experience and knowledge. I can speak to my experiences, but what works for me isn't necessarily translatable to every athletic trainer in the secondary school setting. When we come together and share, we can provide solutions to a broad audience. I am also excited to meet more athletic trainers in the secondary school setting and hear their stories."
NATA Secondary School Sessions attendees can earn up to 9 CEUs. The educational sessions will be available on-demand through June 12, allowing attendees to rewatch content or catch up on anything they missed during the live event.
"We hope that attendees have a greater understanding of their role in providing quality health care as well as specific implementation strategies and access to resources to reference in developing their own policies and procedures for their [place of employment]," Rheeling said.
Early bird pricing – $105 for members and $405 for nonmembers – is available through April 20. After that date, regular pricing will be $180 for members and $480 for nonmembers through June 12. Learn more and register today on the NATA Secondary School Sessions webpage.
Sponsored By