December 19, 2017 by
Beth Sitzler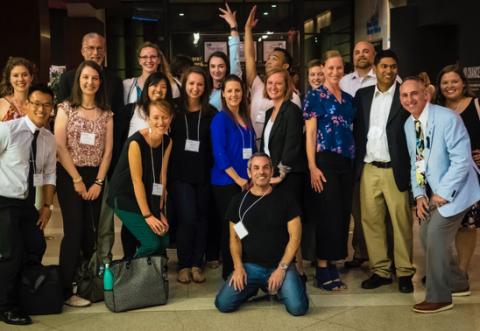 By Amanda Donahue, MS, ATC
Athletic trainers showed strong representation in Houston for a second time this year during the 27th annual Conference of the International Association of Dance Medicine & Science (IADMS) in October. This four-day conference focused on those involved with the health care, education, administration and supervision of dancers, including physicians, physical therapists, athletic trainers, allied health professionals, alternative health care practitioners, psychologists, arts administrators, artistic directors, choreographers, educators, scientists, movement specialists and dancers. The gathering hosted 433 attendees, and more than 50 of them were athletic trainers.
The words "collaboration" and "connection" pulsed through the conference between health care professionals and dance scientists seeking to provide optimal health care to dancers around the world. Round table discussions offered multiple clinical perspectives and healthy research exchange on topics such as foot and ankle, biomechanics, pedagogy and hip. Collaborative movement sessions led by clinicians and dance faculty created unique perspectives on pedagogy and injury prevention. How many athletic trainers approach traditional sport athletic coaches with the idea of collaboration to prevent injury with their student athletes? Would they consider presenting together at a conference? Is this an avenue for the athletic training profession to continue to build relationships within the athletic community?
The performing arts athletic trainers gave nearly 20 presentations and poster presentations on topics including the effects of hypermobility on a dynamic balance task and a pirouette in university dancers, return-to-dance protocols following various injuries, strength training for male dancers, emergency preparation in dance, integration of athletic training principles and Horton technique, nutrition, research into the perceptions of dancers and instructors related to dance injuries and injured dancers, and more.
Among those presenting was athletic trainer Laura Mertz, MS, LAT, ATC, from Behind the Scenes Medical Consulting, who gave a strong presentation titled "Emergencies in Dance: Preparing for the Worst Situation." She stated how athletic trainers should be consulted when dance staff develop an emergency action plan. This was a great educational opportunity for dance educators to learn about the profession of athletic training and how ATs are an essential component in providing specialized health care for performing artists.
Congratulations to all the presenters for a job well done! Mark your calendars for the 28th annual Conference Oct. 25-28, 2018, in Helsinki, Finland
Read more about this years conference and its schedule.