May 16, 2019 by
Beth Sitzler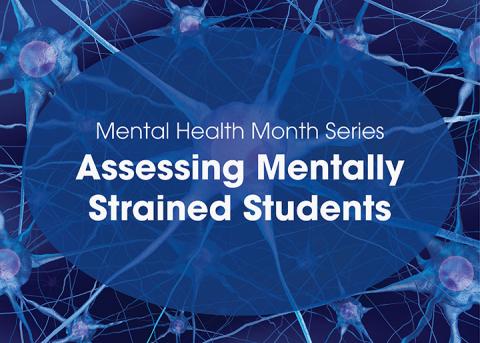 By Cari Wood, ATC
The story has become all too familiar: a young adult takes their own life and those close to them are shocked because they "didn't know anything was wrong."
Today, an estimated 32 percent of adolescents have some sort of an anxiety disorder. This may come as a shock to many because teenagers often hide their stress. Their anxiety and depression may not become apparent until it becomes too much for them to bear.
That was the case with Hunter Holmes, a 16-year-old student athlete I worked with at Redmond High School. Hunter's story and a suicide prevention video created by the school were previously written about in a post on the NATA Now blog.
To learn when students are struggling with mental health issues, the athletic training team at Redmond High School have employed the use of wellness surveys.
This is not a new concept. Personal trainers and strength coaches often use wellness surveys to evaluate their clients for readiness to perform in order to structure their daily workout. However, I have adjusted the typical wellness survey to become a tool for ATs to use as a mental health check with our athletes.   In secondary schools, we typically don't have the funding to provide as many mental health resources as are offered in the collegiate setting. The wellness survey I created is free and doesn't take much time to reach out to a large number of athletes.
First, I start with an all-athlete educational session early in each season. We talk about physical wellness topics, such as proper nutrition, hydration and sleep, and how these can improve performance. We also talk about mental wellness and how finding ways to reduce/manage stress can also improve performance. At the end of the educational session, the athletes sign up with the Remind app to receive the wellness surveys from me on a weekly basis. Remind is a popular app used by coaches and teachers that allows communication with a team or class without an exchange of personal phone numbers.  
The wellness survey I developed is a Google Form, which asks for the student's name and sport and a series of questions to be answered about the athlete's current habits in nutrition, hydration, sleep, soreness, home stress and school/sport stress. These answers are given a score between one and four. The totals go to a Google sheet and are color coded – green for good scores, red for poor scores. The sheets are separated by sport, so scores can be evaluated individually and by teams. A quick glance allows me to see anyone who is in the red and what category. I can also look for trends with teams. I can, then, follow up with individual athletes or their coaches with any concerns. Mental wellness concerns are referred to the mental health specialist in our school for further evaluation.
The most important question on the wellness survey is open ended: "Is there anything else that may be affecting your performance that you'd like to tell me?" In our educational session, I let the athletes know that this question is their opportunity to reach out with any concerns they may have. Sometimes, they just need to vent; sometimes, they have an injury; sometimes, they even have a positive comment.  But, most importantly, it gives them a place to confidentially reach out. I have found that kids are more likely to express emotions via texting/typing than face to face or on a phone call. 
Our faculty feels that the wellness surveys have been a valuable tool at our high school – not only to remind our athletes to be aware of their physical wellness to help improve performance, but also to allow them to express their emotions without judgement. It has given us a chance to check on the mental health of our students on a weekly basis. This season, I added the question: "What are you grateful for today?" I have enjoyed reading these answers so much, and it leaves our athletes with something positive to think about.
If you would like more information about the wellness survey that we developed, feel free to email me at cari.wood@redmondschools.org. You can also watch myself and Redmond High School Athletic Director Kevin Bryant discuss how we collaborate to prioritize athlete mental health with tools like a wellness survey in a Facebook Live video.
In addition, the NATA Secondary School Athletic Trainers' Committee is developing a resource related to wellness survey justification and implementation for secondary schools. Stay tuned for this resource to roll out later in 2019.