October 3, 2018 by
Beth Sitzler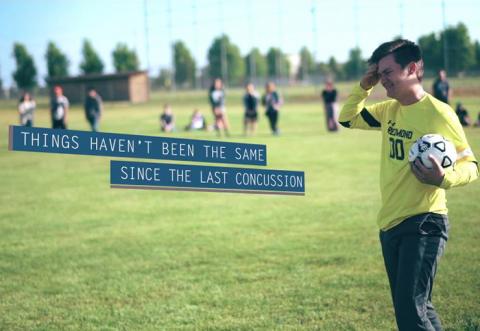 By Kim Diggs
Every day, Cari Wood, ATC, athletic trainer for Redmond High School, in Redmond, Oregon, and former NATA District Ten director, wades through hallways brimming with chatting students and smiling faces.
On Dec. 14, 2017, RHS lost one of those smiles in the hallway. No one knew he was on the brink of taking his own life – especially not Wood. Almost one year later, she's created a video featuring RHS faculty and students with money raised in the student athlete's honor.
This plea for mental health awareness and empathy all starts with the story of Hunter Holmes.
He was the captain of the Redmond Panthers' soccer and golf teams. He was serious about his studies, but made time for friends and his beloved video games. He befriended students who didn't have any friends. His father, Travis Holmes, said he was goofy and fun-loving.
But, after concussive events in October 2016 and 2017, his demeanor changed. His parents, Erika and Travis Holmes, speculate that he may have experienced depression that was onset by the last concussion.
Fifty-one days later, he'd committed suicide.
In honor of their son's memory, Erika and Travis Holmes decided to create the Hunter Holmes Memorial Fund to raise awareness and inspire research about teen suicide and sport-induced concussions.
This May, the organization held a charity golf tournament that grossed $10,000, according to the Central Oregonian. The funds paid for the installation of the Safe Oregon app on the Redmond School District Chromebooks, which allows users to report safety threats or acts of violence. It was also used to fund a scholarship for two high school seniors. There was one investment, though, that ended up touching the most people, and it was originally just supposed to be a piece of equipment in the RHS athletic training facility.
"Hunter spent time with me over his three years and Hunter's parents thought donating the money to the athletic training program would be a good way to help other athletes," Wood said. "I struggled to come up with a piece of equipment or something that would make a difference in lots of kids' lives the way we would want it to."
So, Wood decided not to purchase a piece of equipment. Instead, she opted to create a video that she hoped would reach the students at RHS.
The purpose was to drive home the fact that a chat in the hallway isn't an accurate gauge for what someone is going through – case in point, Hunter. The other goal was to nurture the attitude that mental health issues aren't to be ashamed of, but to be spoken about. The video was created to encourage those who need it to seek professional help.
"No one would guess that Hunter was struggling," Wood said. "He kept a happy face on all the time. The intent of this video was to let kids know that you don't have to pretend to be OK if you aren't." 
So, she reached out to Hunter's parents with the video concept and they were completely onboard.
"I showed a video made for hospital employees to a health occupation class that was similar to the concept we created. It showed hospital patients and medical personnel, but their underlying problems were on display," Wood said. "I thought it would be great to make something similar, but that focused on high school students and relevant problems they are facing today. I discussed it with our principal at the time, and he was supportive. So, I gave that idea to Hunter's parents and they loved it."
After getting the greenlight for the project, she met with Erika Holmes and the video production company, The NW Collective, and assembled eight students and some faculty members to be the core cast of the video. It was clear to her that, in order to make a powerful video, it was time to have some tough conversations with the chosen students about the issues facing them today. 
"They were very honest and forthcoming," Wood said. "It was difficult to hear some of the things they told us. I truly credit their courage to speak out that day for the outcome of the video. That courage is what makes the video so relevant and eye opening. The NW Collective came up with a script that was edited multiple times by our team and we eventually filmed it over a two-day period."  
What resulted was "Your Life Matters," a 4:35-minute video that sets out to prove how so many people's veneer of happiness and banter serves to cover up trauma and life's pressures.
"The intent was to let kids know that you don't have to pretend to be OK if you aren't," Wood said. "Also, be kind to everyone, because everyone is fighting some sort of battle – whether they show it or not."  
What was intended by Wood to be a video shown only to the students at RHS in small groups became a sensation on Facebook, getting more than 2 million views and counting. As of Oct. 1, the video has more than 50,000 shares; that's almost double the population of Redmond.
"We had no idea how popular it would be on social media," Wood said. "We are so thankful for everyone's support."