May 11, 2016 by
Beth Sitzler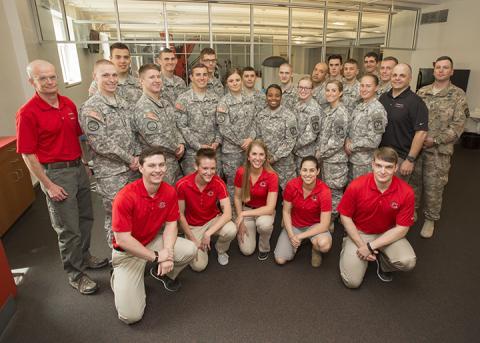 By Rachel Brown, MS, ATC
Integrating athletic trainers in Reserve Officers' Training Corps (ROTC) programs is a unique, yet sometimes overlooked, opportunity. ROTC programs are offered at more than 1,000 colleges and universities across the country.1 According to the U.S. Government Accountability Office (GAO), in 2013 there was an estimated 53,000 cadets participating in ROTC programs nationwide.2 To show perspective, this is about 73 percent of the amount of National Collegiate Athletic Association football players, which number 72,788 participants and accounts for the largest amount of NCAA student athletes; following football, the second largest is baseball with 34,198 student athletes.3 There is both great potential and a great need for athletic trainers to become more involved in ROTC programs in order to provide high-quality standard of care for this distinctive patient population.
"A vast majority of ROTC programs do not have access to medical professionals qualified to make sound recommendations. … In the absence of advice from qualified professionals, ROTC cadre frequently find themselves having to rely on their best judgement," said LTC (R) Gareth Young, a military science instructor.
Of these 53,000 cadets, a majority will participate in Battalion physical training (PT), and many will complete additional physical training and field exercises in order to perform competitively against cadets from other schools. For those who compete, physical and mental readiness training typically includes activities such as: ruck marches (35-plus pounds), liter carry (100-plus pounds), long distance running, combat water survival, land navigation and tactical training, etc. Competitive events include, but are not limited to: Warrior Dash, Ranger Challenge, Ranger Buddy and other special military events such as the Bataan Memorial Death March (26.2 mile ruck march), which are all very physically and mentally demanding tasks.
"During ROTC competitive events, our AT frequently provides assistance to injured cadets from other schools because the treatment is more complex than what the assigned Combat Life Savers can provide," said LTC Jason Christenson, professor of Military Science, Army. "The Army mentality of using Combat Life Savers for every event is antiquated and does not meet the needs of our cadet-athlete population."
"Due to having access to the athletic trainer, myself and other cadets have more quickly recovered from injury and have taken a leap ahead in the prevention of injury," said Cadet Battalion Commander Evan Cosgrove. "The athletic training staff has been critical to success of many UCM ROTC events."
"Having the athletic trainer gives us someone to manage and address the needs of injured cadets even better than a normal unit could due to the knowledge and expertise they bring," said MSG James Krause, a senior military science instructor. "Their support of the program has made a positive impact on our ability to meet our mission."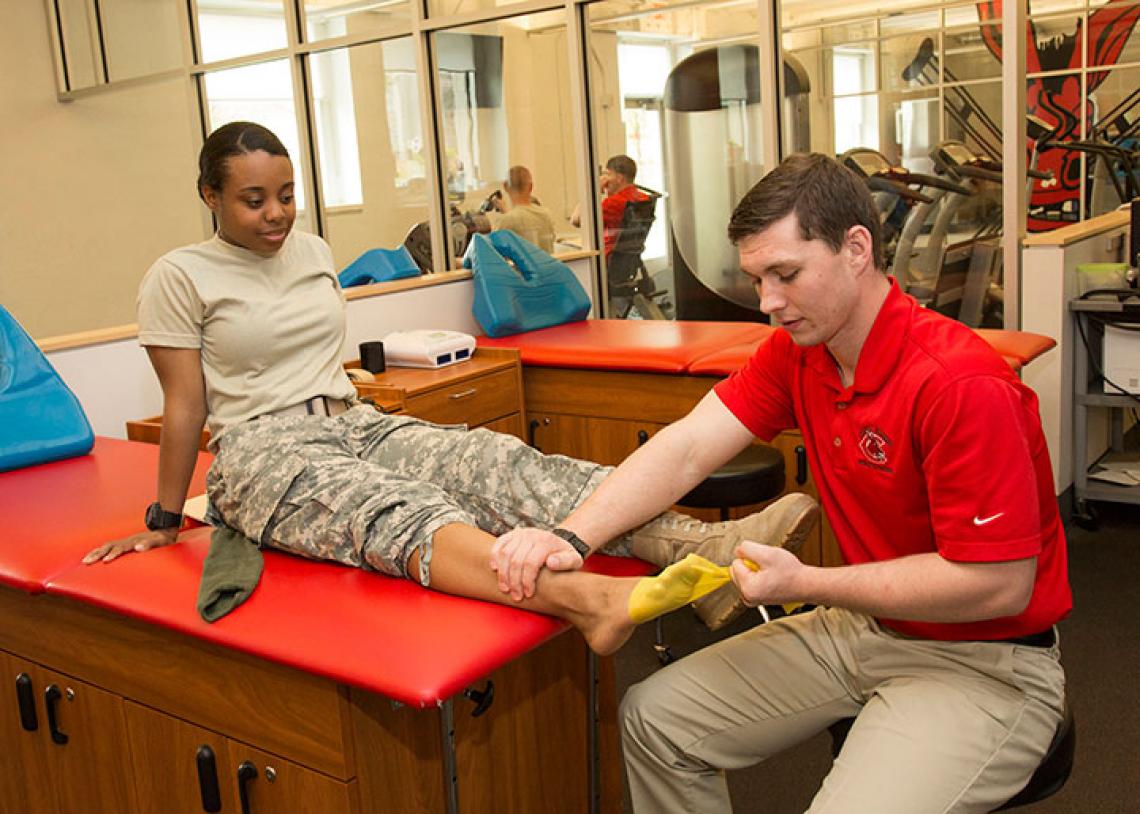 The Army ROTC Fighting Mules Battalion (FMB) has direct access to a certified athletic trainer during physical activities/training, ROTC competitions and other tactical training labs. Many cadets experience injury while training for, or recovering from, these events. Cadets train like any other collegiate athlete. The main difference is that they are not only training to win, but more importantly they train with the goal of physical and mental preparedness consistent with the military lifestyle. The young men and women preparing to defend the nation deserve competent and skilled care at every level of their training.
"As a current soldier, having access to AT's is critical in maintaining readiness, achieving maximum performance for ROTC and making sure no cadet has to worry about an injury they have while they train to be future officers in the United States Army," said Cadet Staff Sergeant Erik MacDowell.
During the 2015-16 academic year, more than 75 cadets have participated in some form of PT. Of this total, 25 to 40 cadets regularly participate in PT and other various physical tasks and competitions. A majority of injuries seen in the ROTC setting are consistent with other epidemiology studies in the military.4-6 For example, some of the most commonly reported injures from the UCM FMB were iliotibial band friction syndrome, patella femoral syndrome, plantar fasciitis, medial tibial stress syndrome, etc. Table 1 depicts approximately nine months (academic year) of documented patient encounters at a Division II public university, single military branch ROTC division (Army).
Table 1
*Other - taping (without treatment), stretching, consult, home exercise program, medications, etc.
Primary roles and responsibilities of the athletic training staff include morning PT coverage, designing remedial PT, designing functional exercises relative to competitive military events, daily treatment and rehabilitation clinic hours and traveling to competitions, events and other off-site training exercises. One unique aspect about the program design at UCM is the ability of the AT to have a presence within the program both in the clinic and on the field.
"The AT is present at all ROTC training events, she stayed in the field two nights with the cadets on a field training exercise and traveled with the cadets to support the team participating in the Bataan Memorial Death March," Young said. "She is at PT every morning at 6 a.m. Cadets respect her for doing these things and are thus willing to seek her assistance and heed what she tells them. … ATs [especially those who are present at ROTC training] understand the expectations of a cadet/soldier. They are therefore able to specifically address the ROTC activities that the cadets may or may not perform as they recover from their injuries."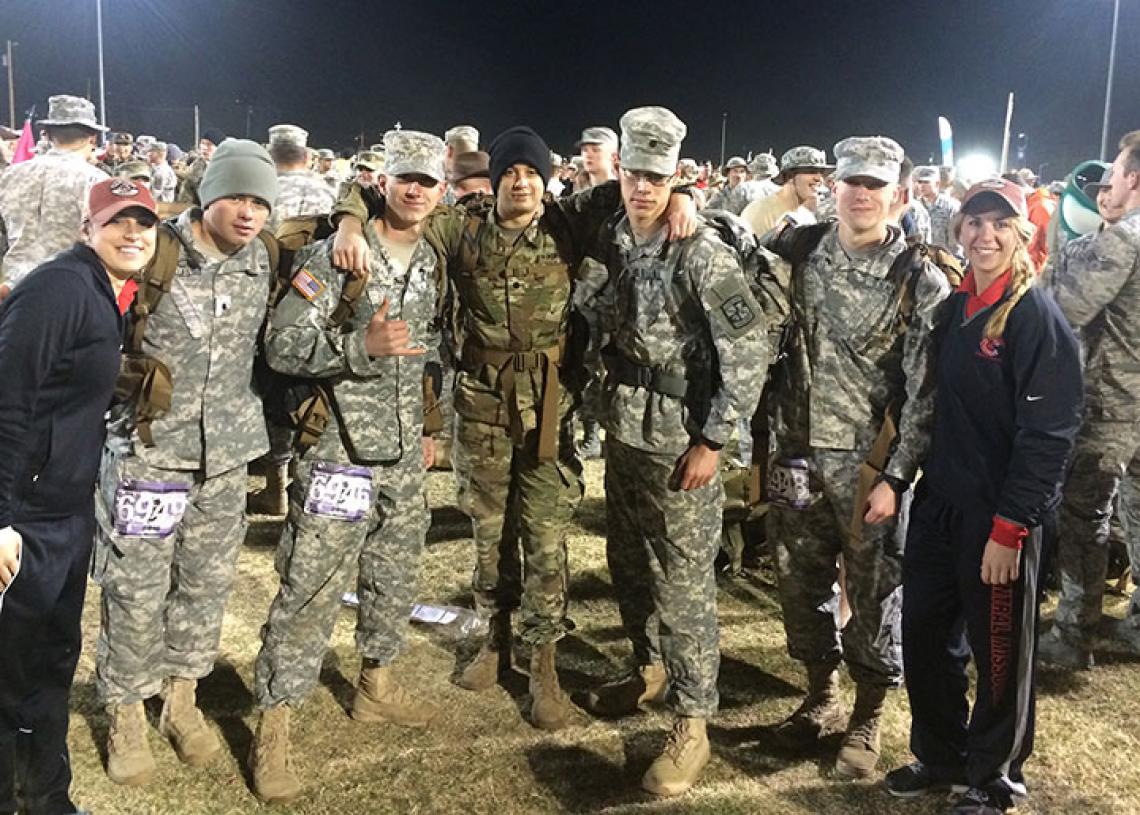 Working with the ROTC program requires a team effort. Every facet in the sports medicine team is important; this team includes the utilization of university team physicians, one part-time athletic trainer, one to four athletic training students enrolled in the UCM CAATE athletic training program, the Cadre and Professors of Military Science, cadets and occasionally Army medical staff (CLS, medics, physicians, etc.).
Over the course of the year, some cadets and athletic training students have elected to share their experiences and thoughts regarding working with each other, and how it has impacted them as a cadet and student.
"While training for the Bataan Death March, the AT staff was a crucial part to getting our team through the finish line," Cadet Brett Rounkles said. "UCM Fighting Mules Battalion is lucky to have such great ATs. A lot of other schools do not have this benefit so we are grateful to get this help."
"During my visits [to the AT], I have received treatments that were unique and much different than going to a doctor," Cadet Staff Sergeant Joe Collins said. "I think these treatments have helped me recover more quickly and healthily to where I could participate in ROTC activities more easily."
"ROTC rotation differs from the other clinical rotations and has helped to better my skills because of the wide range of injuries," said Cody Pace, Junior ATS. "The ROTC clinical assignment was an extraordinary experience that I would highly recommend to other athletic training students."
The ROTC environment is very rewarding and has many unique aspects that diversify the clinical skill sets of both clinicians and athletic training students. The ROTC clinical site is a beneficial setting for athletic trainers who want to work in the military setting. The presence of the AT staff at the University of Central Missouri has had a positive effect on injury reporting and the ability for injury prevention strategies to be put in place and may increase the probability that injuries are reported before they become debilitating. Simply having access to health care is not the same as having an athletic trainer present and integrated during activities, and may not provide the same quality or accessibility of health care services. Incorporating athletic trainers into ROTC programs on campuses across the nation is an opportunity colleges and universities should consider pursuing, if they are not already doing so.
Rachel Brown, MS, ATC, is an instructor and Army ROTC athletic trainer in the Department of Nutrition and Kinesiology at the University of Central Missouri.
References
Today's Military: ROTC Programs. http://todaysmilitary.com/training/rotc. Accessed April 18, 2016.
Military personnel: Actions needed to improve evaluation and oversight of Reserve Officers' Training Corps programs. United States Government Accountability Office. GOA-14-93 a report to congressional committees. November 2013.
2016 probability of competing beyond high school figures and methodology. NCAA Research.
www.ncaa.org/about/resources/research/probability-competing-beyond-high-school. Accessed April 18, 2016.
Cameron KL, Owens BD. The burden and management of sports-related musculoskeletal injuries and conditions within the US military. Clinics in sports medicine. 2014;33:573-589.
Hauret KG, Jones BH, Bullock SH, Canham-Chervak M, Canada S. Musculoskeletal injuries: Description of an under-recognized injury problem among military personnel. Am J Prev Med.. 2010;38:S61-S70.
Kaufma KR, Brodine S, Shafer R. Millitary training –related injuries: Surveillance, research, and prevention. Am J Prev Med. 200;18(3Suppl):54-63.