May 26, 2022 by
Beth Sitzler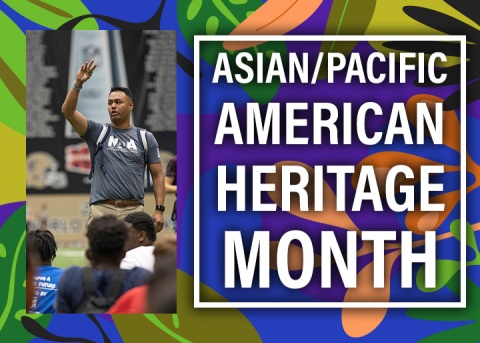 In honor of Asian/Pacific American Heritage Month, the NATA Now blog will highlight some of our Asian American and Pacific Islander leaders at the state, district and national levels throughout May.
 
For Roy Flores, MS, ATC, athletic training was initially an open door to the sports world.
"As a secondary school and collegiate athlete, I was fascinated by the extra person that was always around on competition days," he said. "At first, my goals for becoming an athletic trainer was selfish. I could travel and get sideline access for free!"
Little did Flores know that his enthusiasm for medicine and sports would lead him into a fulfilling career as an athletic trainer and leader.
From Stony Book University athletic training intern to full-time athletic trainer, Flores has witnessed rewarding success in his career and that of his patients. Now, he not only delights in seeing student athletes and patients return to competitions after season-ending injuries, but also appreciates seeing former students become his peers. 
He also has seen firsthand the impact of giving back to the profession, having previously served as the NATA Ethnic Diversity Advisory Committee District Two representative and currently serving as the New York State Athletic Trainers' Association president.
Discover more about Flores' journey as he gives further insight into leadership and service as an AT.
How did you get involved with giving back to the profession and why?
I was never one who wanted to be involved. I was content being on the sidelines and performing rehabilitation sessions. I suddenly found myself in a spot where all I was doing was cookie cutter. I did not feel there was much growth for me. That is when I was persuaded by my mentors – yes, plural – to join an NATA committee. I was lucky to find the NATA Ethnic Diversity Advisory Committee! I have spoken with Shone Gipson, Med, LAT, ATC, the former District Two representative on EDAC, and then District Two Director Michael Goldenberg, MS, ATC, NASM-CES, on multiple occasions. Being involved with some diversity awareness groups in college, this opportunity seemed right up my alley. EDAC was more of a family than a committee, and that made it easier for me to become involved.
One of the great initiatives that EDAC has is its service project. I really connected with the opportunity to share my professional passion with the youth. It also paralleled with my passion for teaching students as an Approved Clinical Instructor (ACI) when I started working as an AT. It is always greAT to see that the young people have a passion and theirs eyes open wider hearing how passionate we are about athletic training.
Tell us about your current role as the president of the New York State Athletic Trainers' Association and what you hope to accomplish in this role.
I was not involved in my state association before my role in EDAC. There was a learning curve to see how things are done at the state level. As the current president of NYSATA, I have always pushed that we are a family in the state and we are here for one another. Yes, it was tough to be a leader during the pandemic, but I hope to inspire others to become advocATes for themselves and show everyone their worth! Legislation in New York State is always going to be a challenge and a headline topic for athletic trainers. I hope to show everyone in this profession that we are not background players and it is OK to be acknowledged and recognized. I would definitely like to see our legislative initiatives succeed, but moreover, I want to elevATe the awareness of the profession in our state.
Why is leadership and service important to you?
Last winter, I went on a virtual tour to meet with all the athletic training programs in our state. The goal was to connect athletic training students to something more than the tape jobs and special tests. I feel it is important to be a member of a professional organization to understand and learn where the profession has been and where it is going. Being a leader is not to impose your ideas on the group, but to take the feedback from the membership and collectively move in the direction that will benefit everyone involved. This is why it is important to me to show my passion for athletic training! I want to be an inspiration for others; to say "If Roy can do it, why not me?" For me, this is the next evolution of my profession development and growth.
How does representation, especially in leadership, impact the profession?
When I was on EDAC, I was lucky to share the table with professionals from all ethnic backgrounds. We were able to hear the concerns of the groups and hear the similarities in the concerns. If we want to push diversity and inclusion among our membership and reflect it to the student athletes and patients we care for, we should reflect in our leadership.
Along the same lines of representation, we followed path set out by @LATINXATS and @NATIVE_ATS. A group of us founded @FIL.AM_ATS. This Instagram group is focused on Filipino American athletic trainers and their allies. I saw parallels between my culture and my profession, and I wanted to see who else felt the same way. This was important to us for the same reasons: representation. We want to raise awareness of our culture. We also want to raise awareness of our profession within our culture.
Why is it important for ATs to get involved in leadership and service?
It is part of your professional and personal growth. It provides you an opportunity to share your voice and to be part of a solution. A lot of people out there say, "Things will not change." Well, I say, "Why not start the change?" This is especially true for athletic training students, young professionals and our ethnically diverse members. Again, this provides an opportunity to network with other leaders who share the same passion for athletic training.
What words of encouragement would you give to another AT who would like to grow as a leader? 
Go out and do it! Find something you are passionate about. You are going to come across adversity and stepping stones along the way. You will not know all the answers and that is OK. There will always be a network that you can lean on. As I tell the graduating athletic training students, "You can go out and try anything for two years. Once you tried it, you can see if it is for you." In the same vein, it is also OK to set boundaries and say "no" if you're overwhelmed. It is all part of your growth to be a better person!