January 6, 2016 by
Todd Christman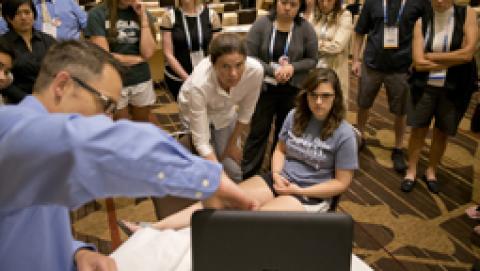 by Dale Grooms, ATC

Have you ever thought of hosting your own Sports Medicine Conference? It can be a lot of work, but is well worth the effort. These local CEU events are an excellent opportunity to create low cost, yet effective, learning opportunities for your local athletic trainers and develop deeper professional relationships with them. These relationships are not only fostered within the athletic training community, but also enhance the relationships between other professional within the medical community.

There is paper work that must be done prior to developing your program, namely getting your BOC Provider Number. The BOC offers the forms, and rules that go into being a provider, as well as helpful videos to ensure your success. There is a nominal fee associated with the application process. A way to recoup the cost is to charge a $20.00 fee to attend our meeting, and we seek sponsors in order to keep costs down to a minimum. The entrance fee and sponsorships also covers the cost for food and drinks for the attendees.

The regional athletic conference my school associates with has been fortunate to be providing CEU opportunities for over ten years. Athletic trainers from the associated schools have shared the responsibilities of these conferences, so no one person, or school, has to shoulder the entire load. We have a treasurer, a speaker committee that secures the presenters, a gift committee, and school host committee to handle the logistics of the physical space and scheduling. We are fortunate to associate with schools that donate meeting space, this provides a free option that keeps our fees low.

A consistent challenge is to come to a consensus of when to host the meetings. We host two meeting per year, and find that the ends of the fall and winter season are time where most AT's feel they can make time to attend. I have been to and seen many successful meetings held on a weekends, however I personally do not want to yield another weekend away from my family. Therefore, we host our meetings during the week. We have hosted our meetings early in the day, starting at 8 a.m. and finishing at 12 p.m. This schedule provides for time to get together, learn and build relationships among schools, and then give the AT's an opportunity to return to their schools and provide the great care that they do. As stated earlier, we do feed the attendees. We provide a light breakfast before the speakers begin, and then have lunch at the conclusion. The lunch has become a favorite of mine, where we all have a great opportunity to talk, relax, and share ideas with each other.

An area yet to address is the topic of advertising. We simply advertise by word of mouth within our own conference that numbers close to 28 athletic trainers. We have asked for emails at registration so we can share the information for the next meeting. We also ask them to share the flyers to keep the word spreading about this learning opportunity with others that may be interested. It has grown from about 30 in attendance ten years ago, to over 60 per meeting this year, due to our marketing efforts both inside and outside of our athletic conference.

As part of the BOC guidelines we have to provide a post- meeting survey. These surveys really are extremely helpful to us. Not only do we get to learn how our presenters were received and how to do things better, but we ask about topics people want to learn about next time. By reaching out to our attendees for topics, we are able to keep ideas fresh and keep to what our attendees want to hear.

I hope this article encourages you to create your own sports medicine seminar. If you have any questions please feel free to reach out to me.