March 1, 2016 by
Todd Christman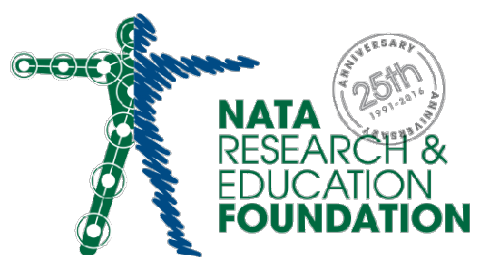 It is with heartfelt thanks that we reach out to you on behalf of the NATA Foundation. Athletic Trainers have a significant impact on students', patients', and athletes' lives, yet our efforts often go unrecognized. The NATA Foundation's 25th Anniversary Celebration is a way for us to highlight the quality medical services Athletic Trainers provide and the far reaching impact we have had in our communities.
We recently launched a variety of campaigns for our 25th Anniversary Celebration and because of you we have raised over $15,000 to support the NATA Foundation and its mission of supporting and advancing the athletic training profession through research and education.
We now need your help to contribute and then promote our #ThankAnAT program to your colleagues and the students, parents, physicians, athletes, and coaches you serve each and every day.
Help us in our grassroots campaign to promote the AT profession by
posting the NATM 2016 themed flyer
anywhere you work and see patients. Ask your colleagues to donate to the NATA Foundation to recognize an athletic trainer that has impacted their life. Then ask a coach, parent or athlete in your community to donate to the NATA Foundation on behalf of the services you provide and encourage them to challenge 3 of their peers to do the same.
It's time for everyone to celebrate AT's and the significant impact we make daily in the lives of those we serve.
Remind everyone to use #ThankAnAT and tag the individuals they want to recognize and challenge to contribute. Only with your help can we improve educational opportunities and achieve clinical research outcomes that will benefit our athletes, patients, and the communities we serve.
Many thanks,
Kenneth Cameron and Mike Ferrara
NATA Foundation 25th Anniversary #ThankAnAT Co-Chairs
Please
share this video
with those not familiar with ATs.