April 21, 2015 by
Todd Christman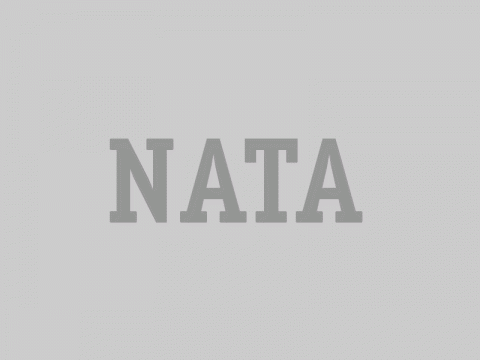 By Caitlin M. Colitti, LAT, ATC, CSCS
As athletic trainers, we know our worth, the tools available to us and how to use them, as well as the unique skill set we possess. Due to our exposure to sustained concussions, we are also now well versed in their management and care. However, not all know the role we play and skills we can provide to offer better care and management of this sustained traumatic brain injury.
On March 31
st
, Derek Soloway, LAT, ATC, PES, brought together a team of four health care professionals comprised of one physician and three ATs from the surrounding Washington DC, Maryland, and Virginia area to present on TBI in the adolescent athlete at Headquarters and Service Battalion, HQMC, Henderson Hall in Arlington, Va. This presentation was part of a parenting conference put on by the Henderson Hall Marine Corps Community Services, Marine and Family Behavioral Health Program. Other topics discussed in this conference were "Violent Extremism Community Awareness Briefing" presented by the National Counterterrorism Center, "Human Trafficking & Child Exploitation in Our Own Backyards" presented by Homeland Security Investigations and "Understanding Teen Dating Violence & Promoting Healthy Relationships" presented by Marine & Family Programs, Family Advocacy.
CAPT Scott Pyne, MC, USN; from Family and Sports Medicine, Naval Health Clinic, Annapolis, Md. and team physician for the Naval Academy opened the presentation establishing an overview of concussion management to get the audience all on the same page. During this overview he utilized a unique analogy of concussion, a snow globe. When a force is put on the snow globe, the snow is disrupted and swirls around in all directions; when an impact to the head is sustained, activity in the brain is altered. We need the snow to fully settle before return to play is pursued. This analogy can reach a wide spectrum of ages and is easily comprehensible and was a good start to getting the audience's attention.
Maureen Siburt, MSEd., LAT, ATC, from Holton-Arms School in Bethesda, Md. presented second highlighting her role related to concussion management. Important to note from her segment of the presentation is that she is tied to a greater entity outside her school, the Safe Concussion Outcome Recovery and Education (
SCORE)
Program, a program within Children's National Health System that provides care of children and adolescents with concussions. This again emphasizes the need for a team approach to concussion management portraying the collaborative effort ATs make on a daily basis working with other professionals to ensure optimum care. Another important aspect Siburt brought to light was that she doesn't just see concussions that result from impact during athletic participation. Although the majority are sustained during soccer, there are still concussions being sustained during the school day from mishaps as well as when her students head home at the end of the day. So what is important about that? The fact that both school staff and parents know to reach out to her when these situations present themselves means that education in place is working.
Matthew Virtue, MS, ATC, from St. Albans School in Washington, DC presented on neurocognitive testing addressing both ImPACT testing, what is commonly utilized in the secondary school setting, and Automated Neuropsychological Assessment Metrics, ANAM, currently utilized within our military. Although these methods of assessment have their differences, there exist some similarities. The first being, the best way to utilize them, as we have come to know and practice, is to baseline test. One step in the right direction, Department of Defense Instruction 6490.13 of June 4, 2013, requires all the Services to have conduct baseline pre-deployment neurocognitive assessment of service members within 12 months preceding deployment. ANAM is one of those methods. Another similarity to stress is that they are only one tool. We are aware of the fact that effective concussion management takes a variety of tools and assessments, but not everyone outside of our peers understands that. Virtue also emphasized that though these are referred to as tests; the scores are not meant to be interpreted as grades, another common misnomer. He highlighted that "what we know guides what we do". Even though baselines and administering these tests to patients may seem trivial in their eyes, it allows us to gain an understanding for a more holistic picture of not just one patient's concussion, but trends over time. This leads to improved overall management and care as time goes on and we gain a greater understanding of presented trends.
Christa Faiver, MS, MEd, ATC, works within the Fairfax County Public Schools system as one of two ATs at Mount Vernon High School located in Alexandria, Va. Due to her proximity to Fort Belvoir, her closing of this presentation allowed for establishment of the current status ATs hold in relation to care of the Tricare athlete in the secondary school setting. A positive mentioned was the idea of autonomy across stakeholders when it comes to the wellbeing of a student who has sustained a concussion. Once a "no" towards return to play has been established, no one entity can override that no. This gives ATs, physicians, parents and other stakeholders equal voice versus there being a system where one individual is able to override and say yes, it is safe to return, when it may not be. Where complications lie, however, goes beyond the realm of concussions. Through the presentation of two case studies of other sustained injuries, Faiver was able to bring to light the delay which exists in the Tricare system. Improvements in the right direction currently include more open lines of communication between physicians and ATs, a hospital at Fort Belvoir and a TBI clinic, but it doesn't have to and shouldn't stop there. 
By educating Department of Defense parents and their families, initiatives such as this will contribute to efforts that TRICARE and other entities within the DoD to promote TBI awareness. On the other hand, by providing this education to parents and other health care professionals within the Department of Defense will help to encourage such positive change and educate regarding the efficacy of athletic trainers and the unique skill set we bring to the table. This same group will present again to Department of Defense parents working at the Pentagon on May 11th.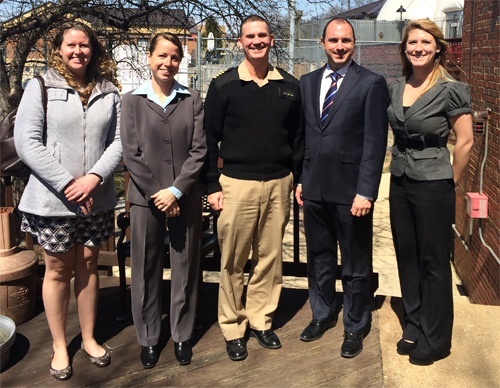 (From left to right) Maureen Siburt, MSEd, LAT, ATC; Christa Faiver, MS, MEd, ATC; CAPT. Scott Pyne, MC, USN; Matthew Virtue, MS, ATC; Caitlin M. Colitti, LAT, ATC, CSCS