September 27, 2016 by
Todd Christman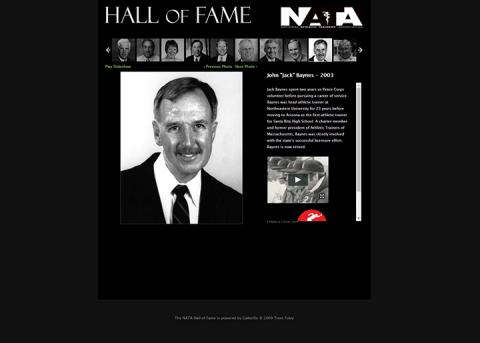 By Jeff Stone 
Past President – ATOM 
Past District One Director
Our little "Athletic Training World" lost a true gentleman on Wednesday… 
Jack Baynes' star shined brightly throughout his career and on all whom he cared for…a warm, humbling, caring practitioner of sports medicine, he balanced his profession with a love of family and friends… 
"The world has lost a beautiful soul." Paul Lessard 
"I learned from Jack…how to be humble and care about people." Steve Kennelly 
"As great as he was for his chosen profession- he was a greater person." Jim Sullivan 
His passing came as he worked daily to overcome his failing body, a task not ignored by Jack's devoted wife, Connie. She became his medical advocate and worked tirelessly (sometimes 24-7) to monitor Jack's daily schedule, dealing with his doctors and raising his spirits. She was his medical hero and guardian angel! 
We all knew that when his e-mails stopped popping up for an extended time, his health was in question. If you were on his e-mail list to receive his musings, you were in a special select group. Laughter became his special medicine, and two of the best sources for this "medicine" were Frank George and Sully. 
Above all else, Jack was a listener and purveyor of knowledge and wisdom, particularly to the hundreds of students he mentored at Northeastern. When "Koko" Kassabian sent you out of Cabot Gym shaking your head and muttering to yourself, you could always go across the alley to the Forsyth Building, knock on the hallway door to Jack's spacious office, and get a dose of his "divine ministry of athletic training and life." Like the old country doctor and church pastor, Jack would dole out his philosophy with a sly smirk and a twinkle in his eye…he always had the right words and the best outlook for you! 
As charter members of the Athletic Trainers of Massachusetts, Jack and Koko forged the early years of ATOM's growth and development. Jack was closely involved in ATOM's successful licensure effort, and established ATOM's stability during the late 1980's. Jack assumed the ATOM presidency in 1989, and led the membership with distinction for three years. He established regional coordinators to keep all areas of the state informed, and instituted ATOM's annual Sports Medicine Symposium and Meeting. Many of ATOM's past officers were students and beneficiaries of Jack's mentorship. ATOM looked to Jack as the "eye of wisdom and experience" when Koko suddenly passed away in 1989. He wore that responsibility with distinction up to his passing. 
John G. "Jack" Baynes received his undergraduate degree in Health and Physical Education from East Stroudsburg State College in 1966. After serving two years in the Peace Corps in El Salvador, with his wife Connie, he returned to teach physical education in his home town of Mansfield, Pennsylvania where he also volunteered as an athletic trainer. 
Upon graduation from the U. of Arizona's graduate athletic training program, Jack accepted a position as assistant athletic trainer at Northeastern University and was promoted to head athletic trainer in 1972. Jack was the Head Athletic Trainer for the Huskies for parts of three decades, and left Northeastern in 1995. During his tenure, according to Northeastern Sports Information Director Jack Grinold, "Jack asserted himself as a primary cog in the development of varsity athletics at NU, and as a leader in the National Athletic Trainers' Association (NATA)." Indeed! 
Jack served as NATA District One Director from 1980-1986, and served on the EATA Executive Board during that same time period. Jack served as Vice President of the NATA during part of his tenure, and ran for NATA President as well. He was awarded the EATA Cramer Award in 1984, and delivered the "Pinky" Newell Address at the EATA's 50th Anniversary Dinner in 1998. The first ATOM Athletic Trainer of the Year award was awarded to Jack in 1991. 
Jack served the USOC at the Pan American Games held in Mexico in 1975, and was on the Medical Staff of the 1980 Lake Placid Winter Olympics. In 1992 he was appointed Chairman of the NATA Honors and Awards committee, a position he held until 2002. He was honored by Northeastern University with induction into its Athletic Hall of Fame in 1995, was inducted into the NATA Hall of Fame in 2003 and the ATOM Hall of Fame in 2005 as an inaugural member. 
Jack and Connie moved to Tucson, Arizona in 1995 when he became the first full time athletic trainer at Santa Rita High School; also involving himself in committee work for the Arizona Athletic Trainers' Association and serving on the professional education and licensure committees. In 2002, he became president of the Arizona Athletic Trainers' Association, one of a handful of individuals who have served as State President of two different states. He returned to Massachusetts and District One to retire in 2006. 
Jack was considered a mentor to many, and a friend to all…his folksy ways belied a genuine and true caring for others. His daughter, Sharon, said it best, "…the kindest, gentlest, sweetest man - my Dad…" 
Through his medical travails, with Connie at his side, he fought the good fight, ran the good race, and kept the faith… 
I will miss my mentor…Rest well, my friend. 
*This was written by Jeff Stone to be distributed to the members of District One and should not be considered a formal obituray for Mr. Baynes.