December 16, 2016 by
Todd Christman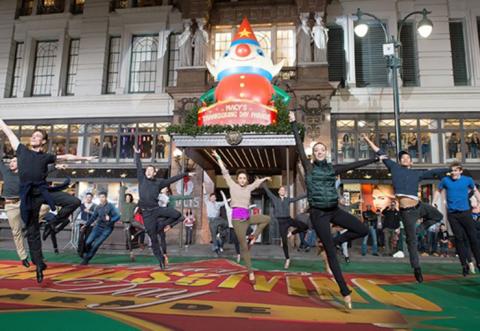 By Meg Schneider, MS, ATC
Assistant Athletic Trainer- Radio City Christmas Spectacular
Athletic Trainer- Chicago Bulls Entertainment team
Most ATs are prepared for teams that traditionally play and practice outdoors, but what would happen if all of a sudden a basketball team was asked to play a game out in 40 degree weather on a street court in the rain? This is the challenge that many performing arts ATs deal with when their athletes are required to perform in special circumstances such as parades, publicity events and TV appearances. During the holiday season many, NYC theater performers are requested to perform at all kinds of holiday events, many of which take place in the chilly weather of the Northeast. These events include the Macy's Day Thanksgiving Parade, the lighting of the Rockefeller Center Christmas Tree and dancing live on the Today Show. During these events the performers are smiling, happy and in beautiful (sometimes summer-like) costumes, but may be rehearsing or performing in typical fall/ winter weather. This can include everything from chilly temperatures to early blustery NYC mornings. Most performers spend the majority of their shows in a temperature controlled theater which is warm and dry. The performing arts athletic trainers cover many of these events and have some key tips for keeping their performers happy, healthy and smiling in less than ideal conditions. Whether you care for a team who is traditionally outside, or you have athlete/performers that may be in these situations sporadically, keep these tips in mind.
1. Temperature 
New York City's fall season can be warm at times but traditionally the Northeast sees mostly brisk mornings and evenings. During outdoor rehearsals the performers are encouraged to dress in layers and try to stay warm. Once the show starts, the costumes are rarely appropriate for cold weather. It is important for the AT staff to be prepared during both rehearsals and performances with "ready to go" warmth. Performing arts ATs routinely carry blankets and gear for the performers to wrap in while waiting. Another helpful tool is disposable heating products, such as hand and foot warmers and Thermacare, for warmth pre and post shows. Large events such as the Macy's Day Parade have large heating units to keep performers warm, but smaller events do not offer this advantage. Another important thing to remember on cold days is reminding the performers about actively staying warm. When performing indoors an active warm up is important, but when rehearsing or performing outdoors, it is critical to maintain an active warm-up when the temperatures are freezing. 
2. Rain, Rain Go Away
The Show Must Go On!!! Whether that is the Macy's Day Parade or the dropping of the New Year's Eve Ball, these events take place through rain, sleet or snow.  Many theater costumes were created and designed for the stage. This can include bare legs, arms and most always high heels or dance shoes. These shoe requirements are not intended for outdoor surfaces. It is important for ATs working in the outdoors to have adequate towels and drying materials not only for the stage surfaces, but also to keep footwear as dry as possible through multiple rehearsals and the show itself. In more traditional sports, the AT may be asked for guidance on cancellation (such as the case of lightning). In performing arts many times the production staff of the event, may not even know there is an AT present, and at times the event will still go on, even if the conditions are not ideal. The AT has to be prepared for these instances and help their performers the best they can. One way to combat this safety issue is to introduce yourself to the stage manager and join the  safety walk through done prior to the performance. Any and all hazards on the performing surface will be assessed at this time.
3. Security/Safety Issues
Although most events have security teams in place who regularly monitor an event, it is important for the AT to evaluate the scene and have an emergency action plan in place. Although not always as well rehearsed and laid out as a home facility like the theater, upon entering a location it is important to evaluate where an emergency exit might be and how to safely remove a performer from the area. Prior to the performance the AT should also identify a private area that can be used if an athlete needs to be assessed for injury. At a traditional sporting event, the athlete can often be taken back to a private locker room. This is often not an option in the performing arts. 
All special events come with their own set of challenges and dynamics, but ATs in the performing arts setting should be able to take their skill set from the sports arena and apply the same aspects of safety and preparedness to any given situation. Safety comes first and foremost, even during the holidays and for the performing athletes who make that happen.