May 14, 2018 by
Todd Christman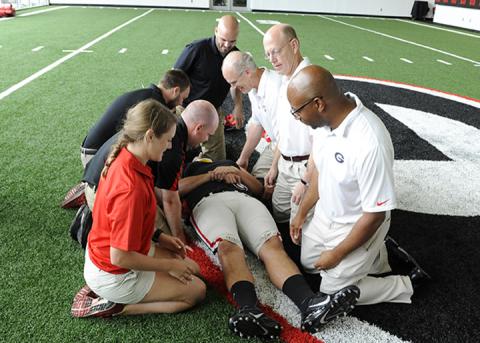 The Spine Injury in Sport Group (SISG) was developed out of the prior Inter-Association Task Force on Pre-Hospital Care of the Spine-Injured Athlete. NATA has partnered with the NFL and NCAA to participate in and assist with sponsoring the project. The SISG will use the international concussion group and their consensus statements as a model of development. The SISG is consisting of 22 members, covering a wide variety of professional backgrounds and work settings (11 physicians, nine athletic trainers and two emergency medical technicians). Eleven of these members were previously on the Inter-Association Task Force, and three of the members have prior experience with the international concussion consensus paper groups. Ron Courson, ATC, PT, NRAEMT, is co-chairing the group, along with Jim Ellis, MD. 

During the May NATA Board of Directors meeting, funding was approved for the initial research project (literature review and Delphi study) overseen by the University of Washington's Harborview Injury Prevention and Research Center. With the results of this project, the SISG plans to meet in spring of 2019 to develop publication of an evidence-based paper on the prehospital care of the spine-injured athlete. 

Additional information about the research study and its progress will be featured in an upcoming issue of the NATA News. For questions, please contact Katie Scott, MS, ATC.