February 1, 2019 by
Todd Christman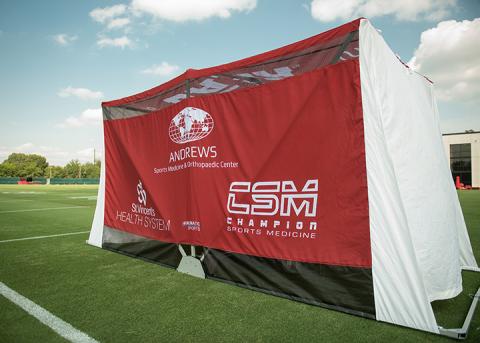 Since it's inception at the University of Alabama in 2015, we have written several times about the SidelinER medical tent in the Hub section of the NATA News. You can learn more about the tent and it's evolution by reading the the articles, which are collected below.  
November 2016
Medical Tent Gaining Popularity
A new invention created at the University of Alabama last year is gaining traction nationally during the 2016 football season. The collapsible sideline tent was the brainchild of Alabama's Director of Sports Medicine Jeff Allen, MEd, ATC, and after successfully deploying it during the 2015 football season, teams in both college and professional football have taken notice. This year, the tent will be seen on the sidelines of 29 FBS level college teams as well as that of the National Football League's Buffalo Bills. Allen devised the tent as a way to decrease distractions and increase privacy when players are evaluated on the sideline. After meeting with the dean of Alabama's College of Engineering, Allen began working with four students in mechanical engineering to develop the invention. Seeing that the tent was viable tool last season, exclusive rights to market it were given to Kinematic Sports. The company is now marketing the tent, which has been dubbed SidelinER, to professional, collegiate and high school teams.
July 2017
NFL Adopts Medical Tent Developed by Alabama
The SidelineER, a tent used for medical evaluations (October 2016 NATA News), will be present at all National Football League games next season. NFL Commissioner Roger Goodell made the announcement at the league's spring meetings in May. The tent provides privacy for athletic trainers and other medical personnel to examine players during competition. Jeff Allen, MEd, ATC, the head athletic trainer for the University of Alabama football team, had the idea originally and worked with students in the mechanical engineering program to bring it to fruition. The formal adoption by the NFL is further confirmation of the tent's popularity, as many universities at the FBS level also employed it during the 2016 season.
April 2018
Alabama Receives Patent for Medical Tent
Although it was just created in 2015, the medical privacy tent has become a nearly ubiquitous sight on the sidelines at football games. Named the SidelinER, the tent was used by every team in the National Football League and a sizeable portion of college teams last year. The tent was invented at the University of Alabama by Director of Sports Medicine Jeff Allen, Med, ATC, with the assistance of a group of engineering students (read more in the October 2016 and July 2017 NATA News). Now the invention has an added layer of protection as the university was granted a patent from the U.S. Patent and Trademark Office in January.