July 20, 2018 by
Todd Christman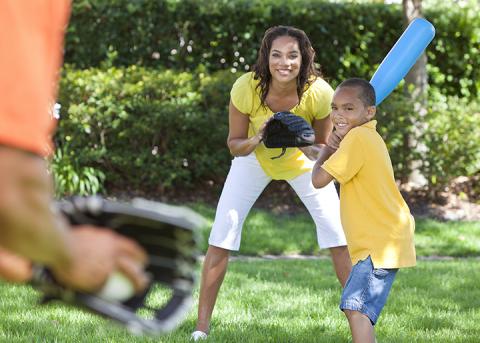 At NATA 2018, NATA launched the At Your Own Risk Share Your Story campaign. Share Your Story is an advocacy content campaign that features interviews with influential athletes, coaches and sports medicine specialists discussing various topics related to sports and safety. Participants like Kobe Bryant, Dr. James Andrews and Philip Rivers share their thoughts on what the role of a parent should be based on their own professional and personal experiences. 
The first topic of the campaign is "The Role of Parents." Parents play a critical role in influencing change in their schools and communities. A parent's primary concern is their child's safety. When parents are informed on sports safety issues and equipped with resources, they can become advocates for sports safety.
As part of the campaign efforts, NATA conducted a national survey of parents to measure their perceptions of youth sports. Results showed that 9 in 10 parents feel that participation in sports is important to their child's overall wellness and a majority of parents say their child has played sports (either currently or in the past). Additionally, 85% of parents believe the benefits of sports outweigh the potential risks.
The survey also found that child's interest and his or her safety are the most important factors when families make decisions about sports participation. More than half of parents say that they would prevent their child from participating in sports due to concerns of the potential risks. Parents are most worried about their child suffering from broken bones, sprains and strains and concussions during sports participation. Parents are also concerned with the risk of heat illness, overuse injuries and dental injuries.
While parents expressed concerns over safety and nearly all parents (91%) indicated that they would take precautionary action related to child's sports participation, many are not taking the proper steps to ensure their child's safety:
Only half of parents know the signs and symptoms of sports-related injuries and ask about the availability and use of safety equipment.
Less than half share their child's medical history with the school or club.
Only approximately one-third of respondents ask about a coach's training and background.
Less than 30% of parents ask if there is a plan for managing emergencies or inquire about the availability of an athletic trainer or medical profession during games and practices.
Only 20% learn about the availability of an AED.
The Role of Parents campaign includes blog posts, downloadable checklists, social content, interviews and tips related to the role of the parent in youth sports safety. Our hope is that through improved awareness and education, parents feel empowered to talk to coaches and school administration about sports safety issues to help provide a safer approach. 
We encourage athletic trainers to share this information with the parents in your community. Equip them with our Parent Checklist for Youth Sports Safety.  Learn more about the Share Your Story campaign and The Role of Parents.