May 26, 2017 by
Beth Sitzler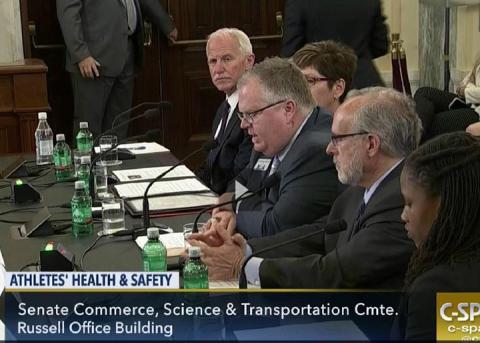 UPDATED May 26
NATA President Scott Sailor, EdD, ATC, was one of six individuals to testify Wednesday, May 17, during the U.S. Senate Committee on Commerce, Science & Transportation hearing "Current Issues in American Sports: Protecting the Health and Safety of American Athletes."
The purpose of the hearing was to examine issues under the committee's sports jurisdiction, including efforts to promote athlete safety, anit-doping and preventing athlete opioid abuse, among other topics. Hearing witnesses included Dr. Jay Clarence Butler, Alaska Department of Health and Social Services chief medical officer; Maureen Deutscher, family representative with the South Dakota Department of Health's Prescription Opioid Abuse Advisory Committee; Shelly Pfohl, U.S. Center for SafeSport chief executive officer; Dr. Robert Stern, professor of neurology at Boston University School of Medicine; and Lauryn Williams, U.S. Anti-Doping Agency TrueSport ambassador.
"It was really neat to be one of six people to testify," Sailor said. "Everyone else on the panel was pretty specialized in a particular topic and I was right in the middle. I was the generalist, because they were all topics that affect athletic trainers and athletic trainers have an impact on. But [ATs are] not specialized—we're broad enough to encompass all of these things."
During his seven-and-a-half-minute speech, Sailor educated the Senate committee as to what an athletic trainer is, the education required to become an athletic trainer and NATA's commitment to health and safety.
"Protecting the health and safety of athletes is exactly what NATA members have been doing since the organization was founded in 1950," Sailor said to the Senate committee during the hearing. "NATA has long been a leader in bringing a voice to the many health and safety issues facing athletes. We are actively engaged in providing our expertise and specific recommendations to policymakers at the local, state and federal levels."
Sailor discussed the bills NATA supports in regards to athlete safety, such as the Sports Medicine Licensure Clarity Act.
"I acknowledged the senators who had participated in brining some of those things forward or were co-sponsors on them. That encouraged them, if they had not sponsored it, to get on board," he said.
Sailor also fielded questions from Senate committee members relating to sports safety, particularly athletic trainers' involvement with opioid abuse and treatment.
"I shared that we're interested in a comprehensive system of care for all of our athletes and help them obtain the necessary help that they need. So in that way, we are involved in opioid abuse treatment programs," he said. "Opioid overdoes are the No. 1 cause of overdoes deaths, and, as was pointed out in this panel, a lot of this starts secondary to injury. The more we can focus on prevention and non-pharmaceutical treatment of pain and things like that, we really help contribute to decreasing the likelihood of that occurring with the patients we provide care for."
Sailor said the invitation to testify during the hearing—a first for NATA—is a strong indication that ATs are being recognized for their contributions to athletic health care.
"We can probably look forward to more opportunities to lend our expertise in the future as these issues come to the forefront and legislators struggle with how to help make sports safer in the United States, which of course is something we care about," he said.
In addition, Sailor said NATA received praise from fellow panelist Dr. Robert Stern, who complimented the association for its position statements and its many projects.
"In his statement, he said, as far as the definition of concussion, the NATA's definition is one of his favorites," Sailor said.
Sailor said he is glad to have helped bring attention to these important topics and, along with his fellow panelists, advocated for continued support for research and education surrounding these them.
"One thing I advocated for was federal support for injury tracking in our secondary schools, in particular, because we can't know exactly how extensive these problems are until we have a really comprehensive data collection process throughout the United States," Sailor said.
You can watch the full session below.