December 14, 2021 by
Todd Christman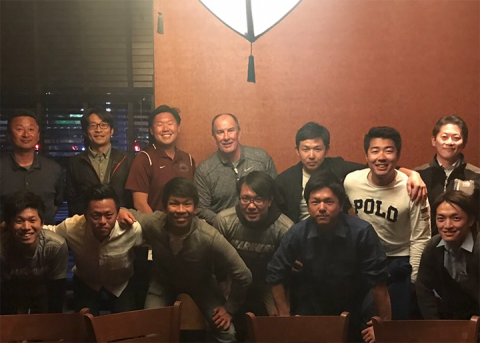 The Professional Baseball Athletic Trainers Society has provided educational exchange opportunities for international athletic training students interested in gaining experience and learning about baseball sports medicine since 1994. Students from Japan, Ireland, the United Kingdom, Australia, Italy, Dominican Republic, Venezuela and Canada have gained valuable experience and knowledge being placed with Major League athletic trainers and their teams during spring training in Florida and Arizona. These exchange programs last from two to six weeks in February and March and the students are in the athletic training room with professional baseball players learning the most up to date baseball sports medicine techniques including return to play protocols, injury and rehabilitation management skills, diagnosis of injuries, strength and conditioning concepts, the importance of nutrition and recovery and record-keeping skills.
Working closely with Major Trainers Incorporated in Tokyo, Japan PBATS has been extremely fortunate to have had over 140 students from Japan complete this amazing experience and it is their longest-running program having competed for 26 years. PBATS also has an agreement with Salford University and St. Mary's in the United Kingdom and over the past seven years, PBATS has had over 40 students complete their placement. For eight years PBATS has had over 30 students from Carlow Institute in Ireland learning alongside the athletic trainers in spring training in Arizona. In the past, PBATS has had students from Murdoch University in Australia and is currently working with universities in Canada to allow students to participate in the PBATS student educational exchange program.
PBATS, working in conjunction with the NATA International Committee has also provided International Sports Medicine Seminars on Baseball Sports Medicine to help assist athletic trainers overseas to gain valuable continuing education credits. These seminars have been held in Tokyo, Japan and London, England. PBATS has also sponsored smaller venues in Ireland, Italy, Germany and Korea.
During the 2020 and 2021 baseball seasons, PBATS was forced to cancel all its programs due to the COVID-19 pandemic, but is hopeful to move forward in 2022 and that it will be able to slowly start to re-establish the educational exchange programs mentioned above.
PBATS has every intention to build these programs back up over the next several years to once again allow athletic training students the chance to learn from baseball athletic trainers in a professional baseball setting. PBATS is currently waiting to hear from Major League Baseball regarding the 2022 COVID-19 protocols and if and when it will be allowed to restart its international programs. Once PBATS is notified if it can restart its programs an announcement will be posted on the NATA website's international page.
If you have any questions or want more information please contact:
Rick Griffin, ATC
Athletic Trainer Emeritus, Seattle Mariners
Chairman, PBATS International Committee