February 1, 2019 by
ToddC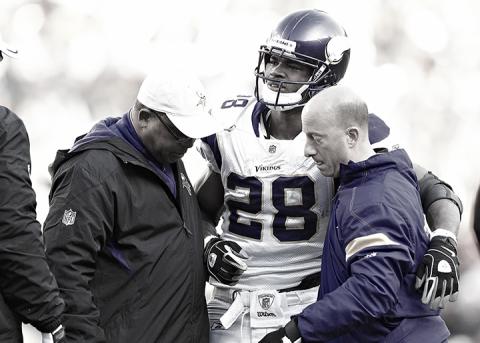 Excerpt from February 2013 NATA News
After tearing his ACL and MCL at the end of the 2011 season, Adrian Peterson returned to the field to have one of the best seasons in NFL history. Here, the Minnesota Vikings athletic training staff discusses how they helped the elite running back make his remarkable comeback.
During a game against the Washington Redskins on Christmas Eve 2011, Adrian Peterson was running a routine play when the helmet of Redskins safety DeJon Gomes collided with Peterson's left leg. When replayed in slow motion, the displacement of Peterson's knee is enough to make even the toughest athlete cringe. As the All-Pro running back – who had just signed a $96 million contract with the Vikings – screamed out in pain, team physician Dr. Joel Boyd and head athletic trainer Eric Sugarman rushed onto the field. Dr. Boyd administered the Lachman test to determine the injury, and right away they– including Peterson– knew the preliminary diagnosis was not good. 
"[We immediately knew] he tore his ACL," Sugarman said. "You know when it happens what lies ahead, not just for this athlete but for any of your athletes; it's a career-changing, long-term injury."
Peterson tore both his ACL and MCL that night. Back in the athletic training facility, assistant athletic trainer Rob Roche, MS, ATC, began applying ice, getting him in compression and trying to keep Peterson calm as he dealt with "the acute shock of the incident."
Six days later, he flew to Alabama to undergo surgery with Dr. James Andrews, who repaired both ligaments and provided Sugarman with a post-surgery training timeline that determined when Peterson would be allowed to walk, jog and sprint.
"We had six phases of rehab the way we looked at it," Sugarman said. "We put it in writing and we stuck by it, and that was part of the success."
You can read the rest of the article here.
Learn more about Minnesota Vikings VP of Sports Medicine and Head Athletic Trainer Eric Sugarman's responsibility for the overall healthcare of the team as well as the critical role athletic trainers play in caring for NFL athletes on a daily basis by watching the "From Sunday to Sunday" video at the NFL's Prepare to Play site.