November 29, 2018 by
Todd Christman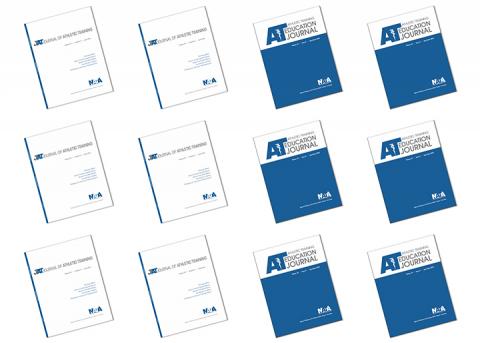 The Development section (on pages 33-37) of the December NATA News included details on many ways that NATA helped enhance the profession this year through programs, services and education designed to improve patient outcomes. Two major contributors to this effort were the  Athletic Training Education Journal and the Journal of Athletic Training. While some information about each was included in the magazine, there was even more to see and it is included below. 
Athletic Training Education Journal
The ATEJ twitter page has more than 1,400 follows. We highlight both ATEJ published manuscripts as well as articles of interest throughout medical education. Our Athletic Training Education Journal Facebook page highlights additional articles of interest in higher education and medical education. We are looking to expand the use of the ATEJ Instagram page to engage academic programs in showcasing different educational techniques and approaches through the "AT Program Challenge". Every two months a new educational strategy is selected and programs submit pictures highlighting how they are integrating it in their programs. Finally, our YouTube page contains our "Author Spotlights" where authors discuss their recently published work. 
The top ATEJ article of 2018, so far, has been Assessment and Management of Sport-Related Concussion Teaching Trends in Athletic Training Programs, Vol. 13, Iss. 2. 
Journal of Athletic Training
The Journal of Athletic Training now offers the ability to connect on all of your favorite social media platforms including Facebook, Twitter, and Instagram.  Over the last year, JAT social media accounts have gained more than 5,000 followers across platforms. These accounts are updated daily with the newest content published online from the journal including new articles, editorials and live streaming events.
The Journal of Athletic Training is now publishing podcasts on a monthly basis to keep you up to date with all the newest content from the journal. On JATCast, Dr. Luke Donovan summarizes recent papers from the journal and on the AT Tapes, Dr. Lizzie Hibberd interviews researchers and clinicians regarding current hot topics in Athletic Training. JAT podcasts are available on the JATCast feed which can be found on your preferred podcast app (iTunes, Spotify, Google Play, Stitcher).
  
Additional stats from 2017
Full-text reads/downloads of articles
•       JAT: 504,973
•       ATEJ: 53,314

Web traffic at NATA Journals site is 55% domestic & 45% international
Most common international readers:
•       UK
•       Australia
•       Canada
•       India