January 15, 2019 by
Todd Christman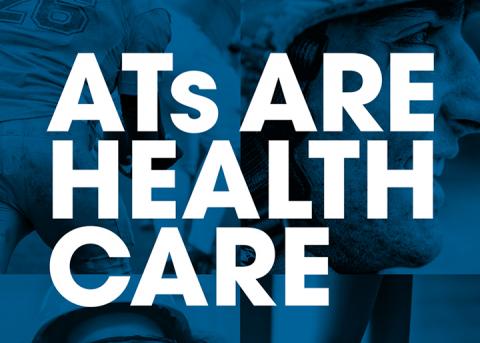 The 2019 National Athletic Training Month theme – ATs Are Health Care – provides an opportunity to shed light on the many contributions athletic trainers have made, and continue to make, in areas such as research, innovation and patient care, contributions that cross a variety of settings – from sports to the military – throughout the U.S. and abroad.  
Despite increased awareness over the years, realities such as deregulation and athletes without access to appropriate medical care presents NATA with an opportunity to focus even more on transitioning influencers, such as physicians, administrators, and the community at large beyond casual acquaintance to a true understanding of the ever-growing impact athletic trainers have in health care.  
During March, we encourage you to celebrate and display your #ATimpact. As NATA President Tory Lindley, MA, ATC, shared in the January NATA News,  the role athletic trainers play in health care is unique and interesting to others, and no one knows your story better than you. 
In addition to the NATM logo and 2019 theme, the campaign also includes several different graphics to initiate conversation around the depth and breadth of the profession. On the NATM webpage, you will find a host of resources designed to cultivate ideas that you can adopt and adapt to promote NATM in your community. We will also share new resources and case studies of how others promote NATM every week in Range of Motion.  
At the national office, we are executing several initiatives during NATM to educate and engage traditional and nontraditional media, as well as key influencers. In addition to providing settings-diverse pitches to the media, we will host social media events through At Your Own Risk. This includes "behind the scenes" experiences with key social influencers to provide a firsthand account of the impact ATs have on work, life and sport – an account that they will in turn share with their followers. 
The official NATM 2019 hashtags are #NATM2019 and #ATsAreHealthCare. Also, be sure to tag @NATA1950 and include #ATimpact as well. 
Access NATM resources now.