May 15, 2014 by
NATA Admin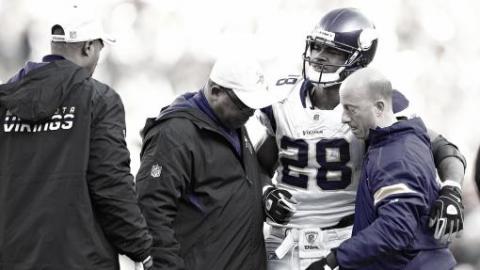 We caught up with Eric Sugarman, MS, ATC, head athletic trainer for the NFL Minnesota Vikings, to get a behind-the-scenes look at what it takes to evaluate athletes during the NFL draft. In addition to his standard responsibilities as head AT, Sugarman said his role in the lengthy process has the potential to make or break a player's chance of being drafted. Read on for the full inside scoop.
What's the typyical role of athletic trainers during the NFL Draft?
Sugarman: The medical staff has a very integral, behind-the-scenes role in the draft. ATs have the responsibility of getting a medical grade on more than 500 players. We see at least 330 players at the NFL Combine, which is a very thorough, physical exam, and then we also have the non-combine draft prospects – I believe about 600. Every team has a process to determine how far down the list they want to go. At the Vikings, we get medical information on those who we consider "draftable" players. [ATs do] a very important job for our front office, and it's one that many people don't know about
What's the process like for an AT in determining a player's medical grade?
After the combine we – as in just the medical staff – spend about six weeks going through the information, reading files and looking at MRIs. We meet with our team physician several times, and separately with the physician and radiologist to review films and X-rays. Then we have combine re-checks, which is in April. This year, about 45 players had injuries while they were seen at the combine that we wanted to look at again. Then we have our medical/draft medical meeting, and those who attend [include] the GM, the scouts, the director of college personnel, our head coach and all of the ATs and physicians. We go through every player. It takes several hours, and this is when we determine our final grade medically on these players. When it comes to the grading scale, every team is different. Our grading scale helps us try to determine risk and weigh risk vs. reward. Do we fail guys medically? Yes, we do.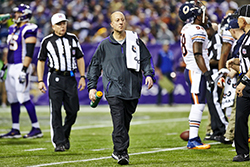 Are there ever disagreements or debates over a player or the medical grade he's been given, or are the coach, GM and other individuals usually supportive of the medical staff's decision?
Our GM has shown great faith over the years. If we recommend a guy is too much of a risk, we remove him from our draft list. Once we determine that, that's it. You don't want to take a guy that's medically unstable. Having done this now for many years (the last nine drafts as head AT and previously as assistant AT), you get to follow guys and that helps to make a really educated decision. It's also really important to note that you're not always going to be right. I'm sure there are guys we've failed who have succeeded, and guys we've passed who haven't. It's not an exact science, but the more you do it, the more you get a feel for it.
Has the AT's role increased over the years as the Draft / NFL Combine has increased in popularity as a spectator event?
The draft is a huge event, and the Combine is a huge event for TV. Having gone to the Combine now for 18 straight years, our job as ATs has not changed: We evaluate these players medically and help our front office make a decision. Although most of our job is done by the time we get to the draft room, sometimes our GM will still look at me and say, "Shug, we're good?"
Everyone has to remember: The Combine was originally designed to be medical – that's why it was established many moons ago. Although now technology has changed, like better MRIs and Impact tests that we didn't do 10 years ago, the role of ATs (and physicans) has remained the same.
For another interesting article about an AT's (totally different) role in the NFL Draft, check out this story about the Bills' Shone Gipson, ATC.
P.S. Sugarman was also primarily responsible for developing the post-injury rehab program of Vikings running back Adrian Peterson, whose unexpected comeback season in 2012 earned him both Offensive Player of the Year and MVP titles less than a year after tearing his ACL and MCL. Read the full story in the February 2013 issue of NATA News here.
-Published by NATA News Managing Editor Jaimie Siegle (jaimies@nata.org)
Photos courtesy of Steve Smith/ Minnesota Vikings