July 8, 2014 by
NATA Admin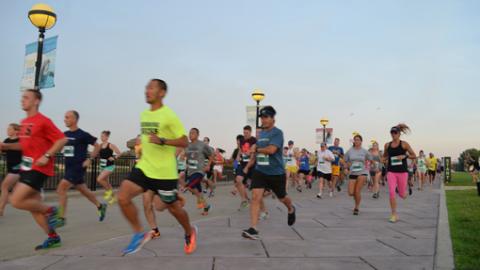 Runners gathered early for the 5K Fun Run during this year's convention.
Photo credit: Jordan Grantham / NATA
For those who may have missed the following sessions on some of the profession's most prevalent issues, fear not: We've got plenty of related resources and follow-up materials to keep you both in-the-know and entertained, from peer-reviewed articles to newsworthy feature stories. Who said summer reading had to be fiction, anyway? Read on, you overachiever, you.
If you attended:
-the Emerging Settings reception, and/or emerging settings sessions: Check out the January 2014 cover story from
NATA News
on the
performing arts setting
on advancing dance medicine
- This year's press conference on heat illness and youth sports safety: Read
"The Game Changers"
from the latest
NATA News
, which covers the University of Georgia's latest research on playing high school football in the heat.
-Free Communications poster presentations by students: Read the
complete guide
to this year's presentations, released in late June by the Free Communications committee and vice chair, Dr. Jennifer Earl Boehm, PhD, ATC. The bevy of new, innovative research projects   is inspiring enough. Don't forget to follow
@NATAFoundation
on Twitter and Facebook for news and updates on the research and education branch of NATA.
And if you were unable to attend this year's convention? Don't worry, you can still relive most of the moments on NATA PhotoZone page. Check out pictures from this year's busiest events, from the welcome reception and J&J Day to the 5K Fun Run and cadaver workshops. What was your favorite moment from this year's convention?
Posted by Sanette Ludick, NATA Editorial Intern