September 9, 2019 by
marketing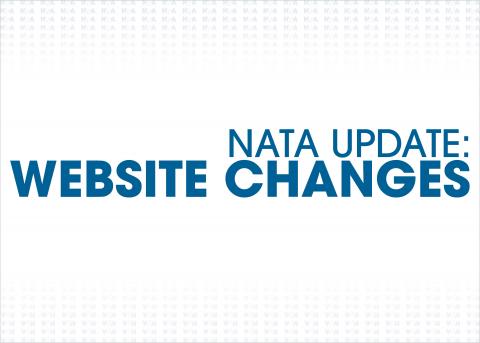 UPDATE: NATA is conducting a maintenance outage for nata.org, pdc.nata.org and jobs.nata.org from 8 a.m. to 2 p.m. CDT Sept 19. Gather will also undergo a maintenance outage Sept. 19-23.
By Kim Diggs
In order to provide a more streamlined, user-focused web experience on the NATA website, the NATA membership database is being moved to a new platform on the back-end Sept. 19. This means a few changes to the website will occur soon. To maintain member or nonmember access to nata.org and understand what to expect in the weeks to come, here are a few things to look out for:
MEMBERS
Password Reset Email
Everyone who has created a user profile on nata.org will receive an email Sept. 19 requesting their password be reset. Don't reset your password prior to this date as all profiles will disappear with the launch of the new platform Sept. 19. Once you've received the email prompting you to reset your password, you can use your previous password to create a new profile. Users must reset their passwords in order to view parts of the website that require login access.
Changes to the Login Screen
Aside from looking more minimalistic, the biggest change to the login screen is the removal of the password retrieval box. First-time visitors without a previously existing account will have to click "forgot your password" and follow the instructions to activate a new account.
More Robust Member Profile
The updated member dashboard will allow you to view all of your professional and financial activity within NATA, including a list of awards you won; affiliations and committee participation; payment information and installment plan tracker; your membership card, which can be reprinted; donation and event registration history; contact preferences; and order history. From your profile, you will also be able to quickly access the NATA Professional Development Center, Gather and Career Center.
NONMEMBERS
Nonmembers will receive an email Sept. 19 requesting a password reset. First-time visitors will be able to verify their new account on the new login page.
You will be able to login from the same page as members once the new system is launched. However, nonmember access on the NATA website will still be limited and the price will still be higher for content provided by the PDC and NATA event registration.
Check your junk mail Sept. 19 if you do not receive the password reset email in your inbox. You can also manually reset your password on the login page if you accidently delete the email or do not receive it. Remember, no action is required until Sept. 19.